The expanding use of telemedicine during the COVID-19 pandemic
Telehealth applications can reduce unnecessary exposure and better utilize EMS resources
---
Telehealth in the prehospital environment enables treat-and-refer or treat-in-place delivery models, while connecting patients to advanced levels of care in the field empowers EMS providers to provide the right level of intervention at the right time, and to transport patients to the best destination. In an EMS1 digital edition, "Care delivery in real-time: Implementing telehealth in EMS," sponsored by Pulsara, learn implementation strategies from agencies successfully using telehealth in the field.
There has been quite a bit of discussion about how telehealth could be utilized during a public health emergency or more commonly during medical care. But only 1% of rural communities in the U.S. routinely use telemedicine and it is rarely utilized outside of emergency situations, such as natural disasters. Now, many physicians, nurses, ERs and EMS are utilizing telemedicine to help prevent the spread of COVID-19 and to conserve resources. In this article we'll examine some of the ways telehealth has been utilized during this pandemic and how it could be used going forward.
Pre-COVID-19, there had been interest in telemedicine triage, which would decrease non-emergent ambulance transports. Often, transportation is a barrier to receiving healthcare, which means EMS become that transportation even when the medical problem itself is non-urgent. One program in Texas called ETHAN used telemedicine triage to determine whether callers did in fact need an ambulance for their medical complaint. They found that with telemedicine triage, they were able to cut down on the amount of non-emergent transport, freeing up EMS resources.
Similarly, TruTriage has partnered with Uber to provide transport to those who are unable to get to higher care but don't warrant an EMS response. Utilizing telehealth to decrease the number of non-emergent ambulance transports allows EMS to respond to more emergencies and better utilizes resources.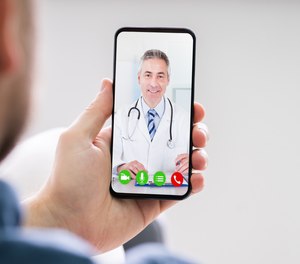 One of the most popular uses of pre-hospital telemedicine has been with telestroke, which enables neurologists with expertise in stroke management to evaluate patients in the field while they're being seen by EMS. These experts can help determine what kind of medical care is needed and what type of hospital they need to go to. When time is brain, every second counts and telehealth can help save neurons.
Reducing COVID-19 exposure
During COVID-19, some EMS agencies have been extremely busy while others have seen a decrease in their call volume. For those who are seeing call increases, telehealth has been utilized to help triage COVID-19 patients. In Virginia, VCU has run a pilot program that connects EMS to VCU Health, allowing them to evaluate patients together and determine whether they need hospital-level care. This has helped them decrease EMS time on scene and help overcrowded ERs.
Perhaps the most important use of telehealth has been to cut down on unnecessary doctor visits and potential COVID-19 exposure. Various medical specialties have used telehealth for routine surgical follow ups, managing chronic medical conditions, checking up on at home COVID-19 patients, routine appointments and non-urgent visits. This helps decrease COVID-19 exposure and still allows patients to get the care that they need.
Telehealth funding
The Federal Communications Commission (FCC) adopted a $200 million COVID-19 Telehealth Program in response to COVID-19. Through the program, the FCC will oversee the distribution of the Congress-appropriated funds approved through the CARES Act.
The COVID-19 Telehealth Program will provide eligible and approved healthcare providers with the resources needed to ensure connected care services for their patients during the COVID-19 pandemic. Awards will be provided to fully fund the purchase of telecommunications, information systems and connected devices necessary to provide telehealth services to patients, including:
Telecommunications, broadband connectivity and voice services for healthcare providers or their patients
Information systems, internet connectivity services for healthcare providers or their patients; remote patient monitoring platforms and services
Connected devices/equipment – tablets, smartphones, connected devices (e.g. broadband-enabled blood pressure monitors, pulse oximetry monitors for patient or healthcare provider use)
As telemedicine has been so widely utilized during the pandemic, it's likely to be much more utilized once the crisis has subsided. For EMS, this means better utilization of resources and the ability to talk in real-time to physicians/other care providers about patients.
Read next: Measuring the impact of a telehealth program on ambulance transports
References
1. Champagne-Langabeer T, Langabeer J, Roberts K, et al. Telehealth Impact on Primary Care Related Ambulance Transports. Journal of Prehospital Emergency Care. January 2019.
2. Novak A. VCU Health, EMS providers using telehealth to respond to COVID-19 cases in rural Virginia. April 2020.
3. Smith A, Thomas E, Snoswell C, et al. Telehealth for global emergencies: Implications for coronavirus disease 2019 (COVID-19). Journal of Telemedicine and Telecare. March 2020.
Request product info from top EMS Community Paramedicine Software companies
Thank You!