Article Bites: Measuring the impact of a telehealth program on ambulance transports
The feasibility of a telehealth program within a large EMS system highlights progress in matching healthcare resources with patient needs
---
Telehealth in the prehospital environment enables treat-and-refer or treat-in-place delivery models, while connecting patients to advanced levels of care in the field empowers EMS providers to provide the right level of intervention at the right time, and to transport patients to the best destination. In an EMS1 digital edition, "Care delivery in real-time: Implementing telehealth in EMS," sponsored by Pulsara, learn implementation strategies from agencies successfully using telehealth in the field.
This article originally appeared in the Article Bites blog of the National Association of EMS Physicians and is reprinted here with permission.
By Al Lulla, M.D., NAEMSP Article Bites Editor
Article Reviewed: Champagne-langabeer T, Langabeer JR, Roberts KE, et al. Telehealth Impact on Primary Care Related Ambulance Transports. Prehosp Emerg Care. 2019;:1-6. [PMID: 30626250]
Background & Objectives. Prior studies have confirmed what is known by many of those who work in EMS: a high proportion of patients that are transported have non-emergent conditions. Several studies have demonstrated that between 33-50% of all ambulance transports are for non-emergent causes.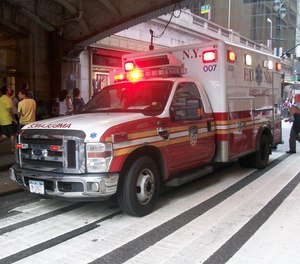 These transports oftentimes result in significant resource utilization from EMS systems that are stretched very thin. Furthermore, these transports may often be linked with ED overcrowding problems and increased healthcare costs.
The role of telehealth has already been shown to be a cost effective and beneficial approach to many aspects of healthcare, including tele-ICUs and within EMS as part of trauma, stroke and cardiovascular care.
The primary objective of this study was to investigate the impact of a large-scale telehealth program that utilizes non-ambulance based transportation (i.e., taxi) and paramedic triage of non-urgent complaints on overall EMS transports.
Methods. The investigators conducted an observational study from January 2015 to December 2017 for patients triaged by the Emergency Telehealth and Navigation Program (ETHAN) program developed by the Houston Fire Department. According to the study protocol, EMTs and paramedics were tasked with enrolling patients with non-life threatening conditions or mild illnesses. To be formally included in the study, the following criteria needed to be met:
Full history and physical exam with no obvious emergency
Age >3 months
English speaking
Normal vital signs; afebrile if chronically ill or over 65 years of age
Ability to care for self
Ability to be transported in a passenger vehicle 
Patients who did not meet all inclusion criteria or who had other high-risk features of their presentation suggestive of an emergency condition were excluded from the analysis. For those who qualified for the study, enrollees were connected via tablet to a board-certified emergency physician who determined if the patient could be referred for follow-up with a primary care facility via versus requiring transport via ambulance. The primary variable that was studied was whether patients were transported by ambulance. Patients who were not transported via ambulance were offered transport to the ED or a primary care facility via taxi. 
Key Results. During the study period, the investigators enrolled 15,067 patients in the telehealth program (equivalent to 2% of the overall EMS volume during this period). The key results from the study were as follows:
11.2% of patients in the telehealth program were transported by ambulance
75.6% of patients were transported by taxi instead of ambulance (5% of these patients were transported to a clinic instead of the ED)
13.2% of patients transported themselves or were not transported at all
Patients were more likely to be transported by ambulance in the telehealth program if the chief complaint was abdominal pain (19.6%), low-risk chest pain (8.3%), shortness of breath (5.2%) or dizziness (3.7%)
Takeaways
Over the course of the study period, a telehealth program to identify patients with non-emergent conditions was successful in helping avoid unnecessary ambulance transports
What this means for EMS. EMS agencies are faced with increased demand of services by the public with decreased available resources and higher costs. Telehealth in the prehospital setting is a novel approach to identify patients that may be suitable for transport via taxi and allow for EMS units to stay in service and serve other patients who present with other time critical conditions. This study did not show a significant decrease in the number of patients that were ultimately transported to the ED (only 2% of overall call volume participated and the majority of patients were still transported to the ED via taxi) and did not provide patient outcome data regarding accuracy of triage as non-emergent.
However, it does demonstrate that a telehealth program is feasible within a large EMS system and highlights a promising avenue towards matching healthcare resources with patient needs and thus represents an important advancement in the field of EMS medicine.
This article was originally posted Apr. 17, 2019. It has been updated.

Request product info from top EMS Technology companies
Thank You!