10 things you need to know about telemedicine
Lessons learned from Houston's ETHAN program can help your agency design, launch and manage a telemedicine program for your community
---
Sponsored by Pulsara
By Rachel Zoch, EMS1 BrandFocus Staff
Over the past decade, the Houston Fire Department has been working on a way to respond to every call and provide appropriate patient care without tying up resources to transport non-emergency patients. These efforts have evolved from a helpline staffed by nurses to the Emergency Telehealth and Navigation, or ETHAN, program.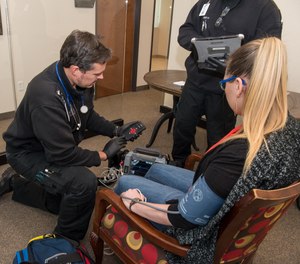 "ETHAN is essentially a third attempt by the city of Houston, and specifically Houston Fire, to deal with a growing problem," said Dr. Michael Gonzalez, HFD associate medical director and director of the ETHAN project, "and that's the increasing use of 911 for a variety of reasons that includes a growing number of patients who probably don't have a true medical emergency."
ETHAN, launched in 2014, connects medics in the field via videoconference with emergency physicians who can help assess the patient and weigh in on whether they have a true medical emergency or would be better served by a clinic visit. The 911 system has become a victim of its own success, says Gonzalez.
"Everybody knows to call 911 if you need help," he said, "and that help can range from the old story that you see on TV about getting my cat out of the tree to a stubbed toe to I don't have a ride to get to the hospital."
EMS1 sat down with Dr. Gonzalez to learn about the program and the lessons learned that other agencies can use to build their own telehealth programs.
1. Providing care is the No. 1 goal 
Ultimately, says Gonzalez, telemedicine is just a tool to help medics assess sick/not sick and provide appropriate patient care. HFD uses the program to triage low-acuity patients away from a costly ambulance trip to the emergency department and instead connect them with more cost-effective providers.
"Even though we are EMS providers, we acknowledge that ambulances are probably one of the most expensive forms of transportation around to arguably one of the most expensive forms of care," he said. "If you call 911, we're going to send somebody out there. We still want to get our patients to where they either want to go or where they need to go, and we really try hard to offer clinic alternatives when they're appropriate."
Patients benefit from reduced wait times and earlier access to a doctor via videoconference. Telemedicine can also help your agency bridge the gap between individuals and the healthcare system. Medics can educate low-acuity patients to help them gain entry into the often-confusing healthcare system and establish a lower-cost alternative to the ER for their care.
2. Having the right hardware is critical 
To make a telemedicine program work, EMS providers need rugged hardware that can stand up to hard use and function reliably, every time.
About the same time ETHAN was launching, HFD adopted a ruggedized tablet with its own cellular connectivity that can also connect to WiFi when available. The all-in-one device was an important piece of the puzzle.
"We didn't want there to be something else that our crews had to grab, or something else that we had to charge," said Gonzalez. "This device was already being acquired to refresh the existing equipment right around the same time we were launching ETHAN. It was very coincidental good timing, because we couldn't have done it without it."
The rugged tablet includes a camera, as well as a magnetic card reader, so medics can swipe a driver's license to automatically extract all the patient's information and populate the patient care report. This saves providers time and effort in the field, as well as reducing the potential for error.
3. Having the right software is critical 
But the hardware was only half the battle. Nobody had ever tried using teleconferencing in this way before, says Gonzalez. Even though by 2013 Apple's FaceTime had taken hold, it provided only point-to-point connections. ETHAN needed something more like a switchboard, a manager function for video calls so that a provider initiating an ETHAN call could make a single call and get the next available physician, instead of having to call multiple numbers until someone picked up.
HFD partnered with Cisco to develop the platform they needed to manage video calls without making medics go through a series of voice prompts. A unit in the field can log in and see which doctors are on call and who is available. Gonzalez says the average ring time is about 37 seconds.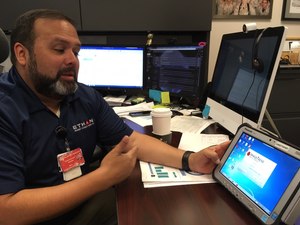 4. Connectivity is everything
Telemedicine is all about connecting patients to providers. If your providers can't connect from the field, all those rugged laptops and videoconferencing programs are useless.
The advent of FirstNet has boosted connectivity for many agencies, but it's important to make sure your agency will have sufficient access, bandwidth and coverage before launching a telemedicine program.
"We learned very quickly that we needed a responsive partner who could help us make sure that the areas we cover were indeed covered by the cellular network that we live off of," said Gonzalez.
HFD partnered with Verizon to make sure they had coverage throughout its service area of roughly 600 square miles, making adjustments as needed to boost signal strength.
"We worked very closely with them on both making sure that the cellular cards were not only functional and working, doing all the things they were supposed to, but we were giving daily feedback for a little while when we first deployed these tablets," said Gonzalez.
5. Forge partnerships in your community
A successful telehealth program also requires provider partnerships. Build working relationships with area clinics and hospitals, as well as the local health department.
HFD partners with clinics where they can refer patients and schedule appointments. Medics schedule the appointment and leave the details, such as time and clinic phone number, on a small pre-printed form that includes numbers for a taxi service and a 24/7 nurse help line.
"We always schedule a clinic appointment within 24 hours," said Gonzalez. "We always schedule it same day or the next day in order to try and make sure that the patients will keep the appointment."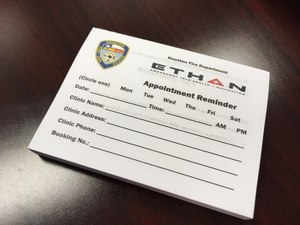 HFD also forged a partnership with Yellow Cab to help those patients who may not have their own transportation get to their appointments. They chose the cab service because they have dozens of cabs with wheelchair ramps and because the bright yellow taxis are more easily recognized by patients than a private vehicle with a ride-sharing service.
The city health department follows up with patients by phone, and Memorial Hermann Hospital provides the free nurse help line noted on the appointment cards medics leave with patients. Health department navigators can connect patients with services to help with concerns beyond healthcare, such as transportation, food insecurity and job training.
6. Train providers and build buy-in from the beginning
Technology aside, it's the providers who will make or break a telehealth program. You will need medics who are trained in the new technology and protocols, as well as emergency medicine doctors available to answer calls 24/7. And you will need buy-in from your providers.
"ETHAN is very much a tool for our crews to use, and we learned very quickly that it was, more than anything, an IT project," said Gonzalez. "I knew that we needed to create something that was simple, easy and fast."
He took into account that many HFD medics had been serving the same patient in the same community for decades, and some were concerned that introducing telehealth might disrupt the trust they had developed with their patients that they serve.
"What we wanted to do with ETHAN was provide an extension for them, a tool for them to handle these low acuity patients that they didn't have before," Gonzalez said. "Yes, we want to provide benefit to the patient, but really we're trying to offer our crews an additional resource that they didn't have before."
Of course, there are early adopters, followers, skeptics and everyone in between at any agency. Gonzalez recommends assessing where your people fall on that spectrum and addressing each group, starting with the early adopters, who can demonstrate how it works to the rest.
"You need to develop an education strategy and a deployment strategy and an engagement strategy around where your agency falls," he said. "That has been the biggest challenge on my part."
7. Explore your funding options 
There are a variety of sources to tap, from federal grants to local health department funds to your hospital partners.
ETHAN was originally funded by federal Section 1115 waiver dollars through the Center for Medicare & Medicaid Innovation that were earmarked for new telehealth and telemedicine models, with the award based on meeting certain milestones. Those requirements have changed in the past few years, says Gonzalez, and they now take a more community-based approach to funding, which is where partnerships with local hospitals may play an increasing role.
The advent of the Emergency Treat, Triage and Transport, or ET3, payment model may also create new opportunities for funding by allowing EMS agencies to bill for the triaging and treating the patient without transport.
"Current regulations, both at the federal level and at the state level, until ET3 came along, did not allow for billing without transport," said Gonzalez. "So, ET3, for the first time, opens the door to charge for services we deliver that are very meaningful, that are very necessary, that may help with a real healthcare impact."
8. Telemedicine can ease congestion and costs for the healthcare system 
Bringing an emergency physician to a 911 patient via videoconference means the healthcare system benefits from reduced congestion in the ER.
"Overall for the health system, we're trying to develop and improve the available alternatives to try and divert patients to other clinic settings, urgent care and other facilities that might be appropriate to care for the complaint," said Gonzalez.
This means payers are reaping most of the financial benefit for now, but Gonzalez says they see the value in it and that HFD is working on potential partnerships with those organizations to help subsidize the program.
"Even from the very beginning, we had people from payers and health systems come forward and say, 'This patient that we used to see here in the ER all the time, what happened to them? Where did they go?'" said Gonzalez.
9. Telemedicine can help EMS agencies make the most of available resources 
Benefits to EMS include conserving resources for true emergencies and reducing expenses on unnecessary transports.
"We have a limited number of resources in terms of staff, firehouses and ambulances. Ambulances in particular are the shortest in supply, and they are one of the most expensive pieces of equipment to acquire and maintain," said Gonzalez.
More than 9 times out of 10, says Gonzalez, the ETHAN doctors recommend something other than an ambulance transport. This saves an average of 47 minutes per call in a low acuity situation, which means a dramatic improvement in unit availability. Were ETHAN not in place, Gonzalez estimates that HFD would need four or five additional ambulances and crews to handle their current call volume.
10. Use telemedicine data to assess your program and plan ahead
The data gathered through a telemedicine program can prove invaluable in assessing its success, as well as identifying health trends in the community and planning for budgets, hiring and resource allocation. HFD can see where the hotspots are as far as calls for service, what the average patient age is, how many patients go to a clinic versus a hospital, etc. This information can be shared with other healthcare providers to help them better serve the community as well.
"Based on our data, and we track this very carefully, we know that not only are our crews identifying the appropriate patients, we've had the biggest success of any program that we've ever seen published in terms of the rate of success with those patients who get transported by something other than ambulance," said Gonzalez. "Trying to figure out a way to potentially avoid a lot of those dollars that are spent inefficiently. That's the goal."

Request information from Pulsara
Thank You!