Don't blame paramedics for system problems
Who among us, in a moment of fatigue and frustration, hasn't imagined parking the ambulance somewhere the sun doesn't shine
---
A Baltimore City EMS provider attracted widespread social media attention for his response to a dispatcher request to return to service last year.   
"For the third time, we told you we are out of service," an EMT said, repeating himself on a recording of Baltimore City Fire Department radio traffic. "I am completely prepared to tell my driver to disembark, and I will drive this thing in the Inner Harbor." 
He's not alone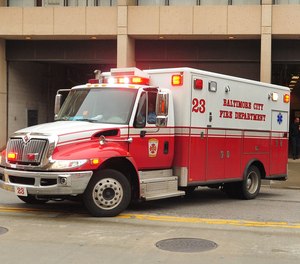 Who among us hasn't been so frustrated by dispatcher requests to return to service that they haven't snapped back at dispatch – on or off the radio – and imagined parking the ambulance somewhere the sun doesn't shine.  
Too often, those dispatch requests or reminders to make available for the next response come as paramedics and EMTs are still caring for patients, decontaminating and restocking the ambulance, or finishing the ePCR. Those radio transmissions are doubly annoying as crewmembers attempt to use the bathroom for the first time in hours, or grab a quick bite to eat or something to drink. 
It's easy to infer anger and frustration in the tone of this EMT's response, which helped attract Baltimore media attention. I also hear fatigue and exasperation, symptoms that are widespread among EMS providers across the country. It's not hard to imagine this provider, like many EMS providers, has become disillusioned with a career that was supposed to be focused on people care but instead has become a constant race against the clock for an overwhelmed system in a community that is too often ungrateful for the personal sacrifice of working in EMS.  
EMS systems, based on their community's willingness to pay for readiness and response, are besieged by problems of low retention, declining recruitment and inadequate funding. It shouldn't surprise anyone that paramedics and EMTs, not just in Baltimore, but everywhere, feel overworked, under-appreciated and under-paid.   
Measure things that really matter 
Turnaround time or return to service time, or whatever your system calls the interval between hospital arrival and readiness to receive an assignment, is easy for systems to measure. But it is absent of context and leaves many questions unanswered:  
How quickly and easily was the crew able to transfer patient care to the receiving facility?  

Was the crew asked to wait in the hallway while a bed was prepared?  

Did the emergency physician have questions for the crew about the patient's history and treatments prior to arrival?  

What supplies needed to be replenished?  
When was the last time the crew had a chance to eat and use the bathroom?  
Just because something is easy to measure doesn't mean it actually matters or that it should trump other measures or priorities.  
Fix the systemic causes of burnout 
Yes, burnout is an ongoing and significant problem in EMS. Sixty percent of 2022 EMS trend survey respondents said they have "one or more symptoms of burnout." A remarkable and distressing 9% said, "I am completely burned out and need to seek help or make major changes." Employers must continue efforts to prevent and treat individuals with burnout through access to an employee assistance program, a peer support program and other burnout countermeasures.  
Flawed and overburdened systems are harming EMS providers, and those EMTs and paramedics shouldn't be blamed for those problems. Instead, it is the responsibility of employers to find and fix the systems problems causing burnout.  
Learn more 
This article was originally posted Sept. 20, 2022. It has been updated.