Research analysis: Burnout in frontline ambulance staff
How clinical variation, management visibility and unintentional overtime impact provider fatigue, depersonalization
---
A study from the University of Huddersfield in the United Kingdom has examined burnout in a large ambulance trust in north England using the Maslach burnout inventory and Copenhagen self-assessment burnout tools, two surveys that have previously been validated in regards to burnout.
Open-ended questions chosen from literature review were also included in the study, which included 382 participants who fully completed the questionnaires. These participants were paramedics, emergency care practitioners and qualified emergency medical technicians.
Of the respondents, 47% showed a low risk of burnout, but 15% and 38% showed high and moderate risks of burnout respectively. High levels of depersonalization (cynicism, detachment, decreased levels of empathy at work) were found in 67% of respondents.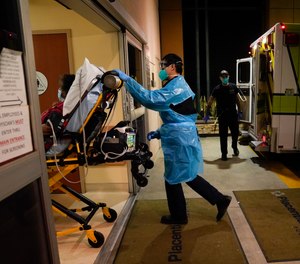 The majority of participants still felt as though they could still achieve positive change in their daily work, as 94% showed high levels of personal achievement.
Study participants noted the following frustrations associated with burnout:
Working late
Heavy workload
Misuse of EMS services
Lack of support from management
Miscommunication from dispatch services
Decreased physical and mental health
Top quotes on EMS burnout
Here are quotes that stood out from the study, "Burnout in frontline ambulance staff."
"More than 50% of the staff were experiencing signs of burnout; concerningly, 15% of these individuals reported they were experiencing high levels of burnout in connection with work."
"Personal achievement was high, with 94% of all respondents reporting high levels."
"Clinicians, men, those aged >35 years, people who had been in the same role for >6 years and staff working in the rapid response vehicle were found to be most at risk from burnout."
"Burnout levels increase proportionally with age until the over-55-year-old category is reached, where a significant reduction is seen."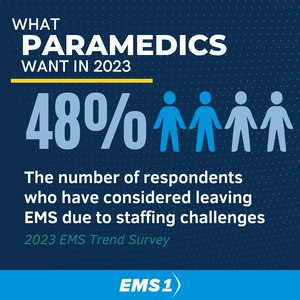 Key takeaways
Following are 5 takeaways on EMS burnout from the study.
1. Burnout symptoms are frequent
It's known that EMS is a high stress job prone to burnout and this study showed again that EMS providers are experiencing many signs of burnout. More than 50% of ambulance staff showed signs of burnout in this study, including exhaustion, depersonalization and fatigue, while 15% of participants showed high levels of burnout.
2. Management matters
Many respondents reported feeling disconnected from management and wished that they would receive more feedback and praise from supervisors. More communication and efforts to improve employee wellbeing were suggested as ways to help improve this relationship. A disconnect between NHS trust management and frontline staff was noted by 52% of respondents.
---

Read more:
EMS Burnout Repair Kit: Reigniting your EMS passion
The EMS Burnout Repair Kit series, presented by EMS1 and Zoll, will equip individuals at all levels in EMS with tools for dealing with the primary sources of burnout, helping them emerge as better, happier providers and more complete people
---
3. Unintentional overtime is a major detractor to work-life balance
Finishing work late, lack of meal breaks or lack of rest time in between shifts were commonly listed by those who felt as though they had a poor work-life balance. Thirty-four percent of staff said they finish work late and feel as though it is a daily occurrence. Having to work more than expected in a shift was associated with higher depersonalization and burnout.
4. Years on the job impacts risk of high burnout
This study found that men were more at risk of burnout than women (17% versus 13% respectively). Additionally, after 6 years in the role, high levels of burnout were directly proportional to number of years on the job. Ages 45-54 had the largest percent of high burnout (24%).
5. Clinical variation is key
Clinical variation was most frequently cited as the reason why staff enjoyed their job. Various medical complaints were more satisfying to work with, while, conversely, dealing with non-emergencies or misuse of emergency services was a common frustration.
Learn more about burnout
Learn more about the factors contributing to burnout and how to prevent and reduce burnout symptoms with these resources from EMS1.
This article was originally posted March 17, 2022. It has been updated. 

Request product info from top EMS Fitness, Mental Health and Wellness companies
Thank You!