Improve EMS provider performance with counseling, coaching and disciplining
Knowing when to use these management tools to identify and reduce at-risk work behaviors is critical to being a successful EMS leader
---
By Michael Ward
Developing competent and confident caregivers in a high-risk, high-performance EMS organization requires an understanding of both human fallibility and the social, procedural and technological aspects of a system.
Humans, regardless of education or dedication, make mistakes. High-performance organizations use a counsel-coach-discipline approach to identify factors that can be changed as well as help caregivers make better behavioral choices.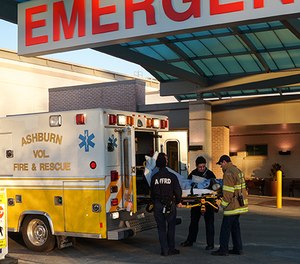 These concepts are part of the Just Culture philosophy, which stems from efforts in aviation and healthcare to improve outcomes among teams faced with high-hazard and high-consequence operations. The Just Culture approach varies with traditional formal discipline by using the term "counsel" as an informal step in improving behavioral decision-making. Coaching is the hands-on directive to change behavior.
Event investigation
A patient experiences a stretcher drop and fall as they are removed from an ambulance. A supervisor conducts an event investigation to answer these five questions:
1. What happened?
2. What normally happens?
3. What does procedure require?
4. Why did the drop and fall happen?
5. How did the providers respond to the accident?
When to counsel an EMS provider 
The event investigation of what happened reveals that the caregiver at the foot of the ambulance stretcher removed his hands from the stretcher to grab a cardiac monitor that was falling off the cot. The caregiver lost control of the foot of the cot and the stretcher dropped to the pavement without the wheels extending.
Normally, the caregiver at the foot of the stretcher maintains control of the stretcher until the wheels are lowered to the ground.
Procedure requires that all items are secured on the stretcher before moving patient. Procedure also requires that the caregiver maintain control of the stretcher.
The supervisor determines this happened or occurred due to human error – a slip, lapse or mistake.
The incident is handled or managed through a change in processes, procedures, training, design or environment. The change process focuses on safe removal of patients from the ambulance, identifying an inconsistent and unclear policy on handling portable oxygen, monitors and IVs when moving patients.
The caregiver is counseled on maintaining control of the stretcher.
When to coach an EMS provider
The largest opportunity to improve high-performance caregivers is controlling at-risk behavior. Caregivers engage in at-risk behavior when they do not recognize the risk or they believe their behavior is justified. 
At-risk behavior is an example of the drift that all humans do. For example, what was a 15-step procedure has been streamlined to five steps – eliminating the procedures designed to assure a safe activity. We see this drift in drug administration, vehicle operation, pre-shift equipment checks, clinical care and patient care report documentation.
Some EMS agencies have procedures that have never been practiced. Caregivers may not be trained or competent in using specialized equipment.
EMS chiefs and supervisors manage at-risk behavior by removing the incentives for at-risk behaviors, creating incentives for healthy behaviors and increasing situational awareness. An example of removing incentives for at-risk behaviors might be looking at improving turn-out times, rather than simply overall response times – this puts the emphasis on areas where providers can safely improve performance, rather than encouraging them to drive faster or more recklessly. Situational awareness includes monitoring system-level activities to see when drifting starts, such as noticing an increase in the number of patients that receive an inadequate STEMI or stroke assessment before it becomes a wider problem or leads to a bad outcome.
The caregiver is coached and provided with a document that describes what happened, what should have happened, and the consequences of repeated behavior. The caregiver is provided with a copy of the regulation, policy or procedure. This session is memorialized in the manner required by your human resources representative.
When to discipline an EMS provider
Documenting a coaching session is usually the first step of formal discipline. If the event investigation reveals conscious disregard of a substantial and unjustifiable risk, which is reckless behavior, formal discipline is required.
A paramedic moving an ambulance while intoxicated is reckless. An EMT stealing cash or medications from a patient is unjustifiable. Driving an ambulance with a suspended driver's license is a conscious disregard for policy and procedure.
Reckless behavior is managed through a range of options.
Remedial action. Usually a work improvement plan
Disciplinary action. The starting point within the formal discipline process is based on the behavior and the organization's workplace boundaries
Punitive action. Reassignment, demotion, suspension or termination. The start point of punitive action is based on the behavior and the organization's workspace boundaries
A key attribute of high-performance organizations is a focus on behavioral choices instead of outcomes. This is important within our 24/7 information culture that feeds on controversy. Is there a different level of corrective action if the patient experiencing a stretcher drop and fall was a prominent national figure and a YouTube clip of the incident made the national news?
There are two other situations requiring formal discipline. Repetitive human errors or at-risk behavior after system design and personal performance factors have been addressed and the caregiver is placed on a work improvement plan. When human errors or at-risk behaviors continue after the work improvement plan is completed, coaching and counseling may no longer be sufficient to correct the deficiency.
EMS chiefs will get their best return by focusing on identifying and reducing at-risk behaviors by their caregivers and system design issues when looking at human errors.
Learn more about Just Culture
Dekker, Sidney (2012) Just Culture: Balancing Safety and Accountability, 2nd edition. Ashgate Publishing Company.
Reason, James (2013) A Life In Error: From Little Slips to Big Disasters. Ashgate Publishing Company
About the author
Michael Ward, a senior associate with Fitch & Associates, has more than 40 years of experience in the emergency care industry. He retired as the acting EMS chief from a large fire and rescue department, has served as executive director of a hospital-based 911 paramedic and medical transportation service and was an assistant professor and program director at a university medical center. He lives in the Washington, D.C., suburbs. 
This article was originally posted Feb. 11, 2016. It has been updated.