Mom holding onto baby isn't an acceptable transport option
If children aren't properly restrained in the back of your ambulance, it puts everyone at risk
---
How would you transport a newborn baby after a successful home birth?
Or, what about a young child with a croup-like cough?
The practice of having mom – secured to the cot – holding onto her child is not in the drop-down options in your PCR for patient transport; and for good reason.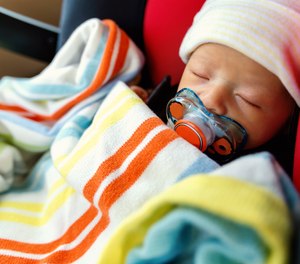 That's because this dangerous (negligent) practice is not acceptable. In fact, it never was acceptable. It's not safe.
Just like it's illegal to hold onto children and infants in your personal vehicle while it's traveling, the same holds suit in the back of an ambulance. And if you think that mom can hold onto her child strong enough in the event of a collision, you may be dead wrong (literally).
So, what options do we have? What is the correct way to transport pediatric patients?
Best practices for pediatric transport in the ambulance
The "Working Group Best-Practice Recommendations for the Safe Transport of Children in Emergency Ground Ambulances," a 2012 document published by NHTSA, tackles this very topic.
Some states have even adopted their own administrative language toward the requirement of having appropriate pediatric transport devices stocked on all ambulances. And, following suit, multiple product vendors have developed devices that can either be affixed to a standard EMS cot, secured over a restrained parent on the cot, or even integrated into forward or backward facing seating within the patient compartment of the ambulance.
For those states and agencies that don't quite require commercial device use, the NHTSA document outlines acceptable practices for securing a child's car seat onto a cot, or even securing a young child to the cot on their own. Your four-point shoulder strap harness plays a role in this task.
If children aren't properly restrained in the back of your ambulance, then they become projectiles (just like everything else that's not restrained – including yourself if you're not using your seatbelt).
The NHTSA document goes on to reference a prior 1999 "Dos and Don'ts of Transporting Children in an Ambulance" general guideline document, produced by a group of representatives from EMS national organizations, Federal agencies, and transportation safety engineers, convened by the NHTSA and the HRSA Emergency Medical Services for Children program.
7 safety considerations for pediatric transport
The document includes seven considerations regarding the safe transport of pediatric patients:
Do tightly secure all monitoring devices and other equipment
Do ensure available restraint systems are used by EMTs and other occupants, including the patient
Do transport children who are not patients, properly restrained, in an alternate passenger vehicle whenever possible
Do not leave monitoring devices and other equipment unsecured in moving EMS vehicles
Do not allow parents, caregivers, EMTs or other passengers to be unrestrained during transport
Do not have the child/infant held in the parent's, caregiver's or EMT's arms or lap during transport.
Do not allow emergency vehicles to be operated by persons who have not completed the DOT NHTSA Emergency Vehicle Operating Course (EVOC), National Standard Curriculum, or its equivalent
So, after reading that, how many of the seven can you say that your agency follows – that you follow?
Five situations are also practically outlined in this document, which provide solutions for different pediatric transport situations – for both stable and unstable pediatric patients. In all situations, "mom holding onto baby" is not seen as an ideal or acceptable practice.
Considering that, what do your agency's policies say? Do your protocols or clinical operating guidelines address pediatric transport? Are your administrators aware of this document? Were you aware of it?
The next time you're completing your PCR, take a look at all of the transport options. Via stretcher leads the pack, but mom holding onto baby ... well, it's not there for a reason.