How to avoid, survive an ambulance collision
Ambulance collisions, which happen with frightening regularity, often result in injury and are occasionally fatal, especially for private vehicle drivers
---
This article, originally published 1/30/2019, has been updated with current information
If you regularly drive an ambulance, here are two questions to ponder.
How much money will a jury award ambulance crash survivors?
How much jail time will I get as the at-fault driver in a fatal ambulance collision?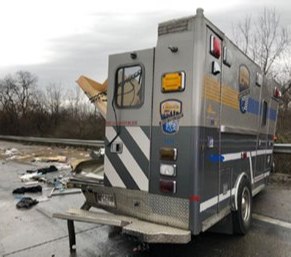 Seattle agreed to pay $65 million to the family of Brooke Taylor. The settlement will cover ongoing care for Taylor, who suffered a traumatic brain injury in a 2016 collision between a Seattle Fire Department ambulance, running with its lights and sirens, and Taylor's vehicle. The ambulance drove through a red light.
In a similar case, a New Jersey fire company settled a lawsuit for $4.5 million with a woman who sustained "catastrophic and permanent injuries" as the result of a volunteer firefighter who drove through a red light in a POV while responding to a call. The settlement also requires the firefighter, who was driving with flashing blue lights, to pay $100,000 to the injured woman. 
The answer to the second question is a little less clear as cases of jail time are relatively rare. A Virginia EMS provider was indicted for involuntary manslaughter and two counts of reckless driving in an ambulance collision that resulted in the death of Rita Davis. The driver of the ambulance, still in training, had the red lights activated, but not the sirens, at the time he drove through an intersection.
Jeffrey Gable, the driver of a non-emergency transport ambulance – presumably a wheelchair van – received six months of prison time for his role in a 2016 crash that killed his passenger and the driver of another vehicle.
In early January, I received a message from Jim Love, a longtime EMS risk and safety manager. Love wrote:
"Recently, I drove through Lorain, Ohio, where in April 1989, paramedic Micheal Montecalvo was involved in a collision that cost another person her life. He was sentenced to 2 to 10 years in prison for aggravated vehicular homicide. He only served seven months of his sentence, but was a convicted felon – never to work in EMS again."
Multi-million dollar settlements and the risk of jail time ought to motivate interest in better understanding how ambulance crashes happen and what you can do to avoid a collision.
Ambulance crashes happen with predictable frequency
EMS1 posts news of ambulance collisions, which happen with such regularity that our news editors aren't able to cover them all. Otherwise our news coverage would be dominated by ambulance crashes. Here are the most noteworthy ambulance collisions from just the first month of 2019:
Ambulance collision LODDs in 2018 and 2019
In 2018, EMS1 reported on 22 EMS provider line of duty deaths. On-duty or after-shift medical emergencies were the leading cause of death. Five fatalities were the result of ambulance collisions. Three fatalities were from a medical helicopter crash in northern Wisconsin. An EMT student was killed in a motorcycle crash en route to EMT school in another vehicle-related fatality.
As of today, EMS1 has reported 9 EMS provider line of duty deaths in 2019. Two of those deaths were paramedics Brittany Young and Ronald Dick II. Their ambulance struck the rear of a parked tractor-trailer.  
Avoid and survive an ambulance collision
Ambulances travel millions of miles every year. Whether responding to an emergency, transporting a patient, driving to a posting location or returning to quarters, here are actions for every EMS provider to take to avoid and survive a collision.
1. Trust no one
Other drivers are distracted, drunk, asleep or incompetent until proven otherwise. Drive defensively, anticipating the drivers around you will make the worst possible decisions and will also react erratically and indecisively as you approach them at an intersection or prepare to overtake a vehicle. Never trust another driver to do the right thing. Instead, expect them to do the worst thing.
2. Do your job as a driver or passenger
New England Patriots Football Coach Bill Belichick has this expectation of his players: Do your job. Your job as an ambulance driver and passenger includes these fundamentals:
Wearing your seatbelt. Always.
Operating at speeds safe for road conditions.
Never being distracted by a smartphone, a radio, an MDT or food as you drive.
Keeping your eyes on the road and mirrors.
Assessing hazards and anticipating how you will respond to a dynamic operating environment.
3. The road is a hot zone
Any roadway, especially when stopped on the side of the road, is a hot zone. Minimize your exposure time to all other vehicle traffic. Put as much distance as possible between you and those vehicles. Use other vehicles – fire apparatus and police cruisers – to shield the incident scene from intrusion by other vehicles. Move towards a warm zone with purpose and urgency.  
4. Red lights and sirens are dangerous to life and health
One of the most common attributes of an ambulance collision is the use of red lights and sirens. The risk associated with red lights and siren use – which give an ambulance right of way and permission to operate above the posted speed limit – is well known; at least it should be. Nonetheless, red lights and siren use remains a dangerous sacred cow in EMS that has little impact on patient outcomes.
5. Transport is a treatment
Protocols and clinical decision-making guide patient treatment decisions. Pick the mode of transport, a prehospital patient treatment, most appropriate to the patient's condition. The choices are not limited to either "no transport" or "red lights and sirens transport." Transport modes, include but are not limited to:
Patient's own vehicle
Rideshare
BLS non-emergent or emergent
ALS non-emergent or emergent
Flight
Other than patient lifting, can you think of another treatment that has such a high risk of injury? If your organization has a mode of transport quality improvement process or project underway to understand and minimize the risk of ambulance collisions, EMS1 wants to hear about it.
Request product info from top EMS Ambulance Safety companies
Thank You!