FD investigating after delayed response to runner who collapsed just yards from rescue crew
The fire department said they believed an ambulance had already been sent, but it was sent to the wrong location
---
Kavitha Surana
Tampa Bay Times, St. Petersburg, Fla.
ST. PETERSBURG, Fla. — When a runner collapsed and died during this month's Skyway 10k marathon, officials say confusion led to a delayed emergency response.
Two emergency vehicles and crews were within view as bystanders rushed to perform CPR on 48-year-old Justin Doyle after he collapsed on the northbound span of the bridge on March 1, witnesses said.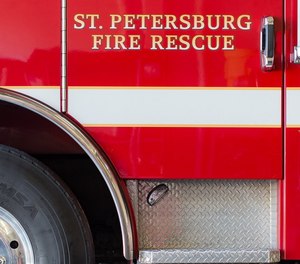 Those first-responders believed help had already been sent, said Fire Rescue Lt. Steven Lawrence — but that help was actually sent to the wrong location. Doyle was eventually taken to a hospital, where he was pronounced dead.
St. Petersburg Fire Rescue oversaw medical emergencies during the race. Now the agency is investigating how "everything got turned around," Lawrence said, and will soon come up with a plan to make sure it doesn't happen again.
Witnesses described a chaotic scene that left them bewildered. How could so much go so wrong, and in front of so many first-responders?
"It seemed like there was a huge medical presence there, just exactly for this situation," said runner Norma Brennan, who said she witnessed the incident and tried to help. "I was shocked that there was no attention."
Doyle had just passed the race's 5-mile marker when he collapsed.
Brennan, a 63-year-old snowbird from Massachusetts, said she was one of the first to reach Doyle. More bystanders appeared who said they had medical training. They started chest compressions. Brennan said she wrapped her hand around his wrist, trying to feel for a pulse.
"He only had a pulse during the compressions," she said.
More people stopped, and some tried to get official help. They called 911, tried to catch the attention of emergency crews parked within view and flagged down a St. Petersburg police motorcycle officer who was driving by, witnesses told the Tampa Bay Times. Many posted similar accounts on the Skyway 10k's Facebook Page.
Elizabeth Wulff, a 42-year-old attorney, said she was one of the runners who tried to get emergency workers to attend to Doyle. She said he collapsed in between two rescue vehicles, parked a few hundred yards apart — a private Sunstar Paramedics ambulance and a St. Petersburg Fire Rescue truck, according to fire officials.
They tried waving and gesturing at both crews, Wulff said, then yelled at passing runners to ask those crews to hurry up when they got close.
Minutes ticked by. Neither emergency vehicle moved, witnesses said. Wulff said she watched the motorcycle officer call for help on his radio — but no one came.
"It was very, very frustrating, standing there, doing everything we could to flag down these vehicles that were in our eyesight," she said.
After about nine minutes, witnesses said the group decided they had to get Doyle off the bridge themselves. They stopped a school bus being used to transport runners and loaded Doyle on to it. The bus took Doyle to Blackthorn Memorial Park on the St. Petersburg end of the Skyway.
Shaken, Brennan said she continued running, but now while holding her husband's hand. Then they reached the St. Petersburg Fire Rescue vehicle.
"Runners were stopped, hollering at them 'Why didn't you respond, didn't you get the call?'" Brennan said.
Their response: "We were told it was taken care of, or something to that effect."
The emergency crews that didn't move were led to believe help had been dispatched, Lawrence said.
But a Manatee County ambulance was sent to the wrong location.
Doyle collapsed near the race's 5-mile marker. But rescuers were sent to a different 5-mile marker: The bridge's 5-mile marker, Lawrence said.
Witnesses vented their frustration on Facebook.
"This was not a medical tragedy, this was medical negligence," wrote Suzanne Reed DiCamillo.
"The delay for this man to get an airway was beyond disturbing," wrote Gozling Dobbyn. "A police officer on a motorcycle went and told the ambulance .... no response, people ran to the fire rescue truck 300 yds away ... delayed response."
"The fact that the St Pete Fire Rescue truck (F419) was nearly 50 yards from us & responded saying the(ir) chief told them they couldn't move is ridiculous," wrote Jordan Bellar.
But Lawrence said those rescue crews could not have left their posts. They have to follow the chain-of-command, and their commanders told them help was on the way.
A race spokesman offered condolences to Doyle's family and friends and said the organization "will fully and completely support" St. Petersburg Fire Rescue's investigation.
Doyle's family declined to comment on the emergency response until the investigation is finished.
Lea Doyle, 50, described his brother Justin as his "best friend."
Justin Doyle was an airplane engineer who grew up in the United Kingdom and moved to Pinellas County in 2012 to join his brother, who runs the Horse and Jockey pub in South Pasadena. He worked the bar, fell in love, married and put down roots. He leaves behind a wife, brother, sister, two parents and three step-grandchildren.
Breast cancer afflicted both his wife and stepdaughter. So Justin Doyle started a foundation and raised money to help local cancer patients pay their expenses. Last year, his 26-year-old stepdaughter passed away from cancer and he took on a bigger role caring for her three children, Lea Doyle said.
"(Justin) wanted to make everything as easy as he could for everyone in his life," he said. "It's almost like the good get taken way too early."
The Skyway Bridge was one of Justin Doyle's favorite spots in the area, Lea Doyle said. As a Brit who grew up in the gray landscape of northern England, he was stunned by its expansive views of the ocean. As an engineer, he appreciated its construction.
"If he had to go ... he loved running, it was a beautiful day and he was somewhere he absolutely loved being."
———
©2020 the Tampa Bay Times (St. Petersburg, Fla.)
McClatchy-Tribune News Service