N.J. 12-year-old died after collapsing at football practice, report says
Bystanders called 911, but the child's family said no one performed CPR, and it took up to 30 minutes for first responders to arrive
---
By Brianna Kudisch
nj.com
NEWARK, N.J. — A 12-year-old boy died after collapsing at a football practice in Essex County last week, according to a report from WABC-TV.
The boy, Elijah Jordan Brown-Garcia, was completing a light football drill on the field at West Side Park in Newark with the Essex County Predators, a youth football team, when he collapsed on Feb. 10, according to the report.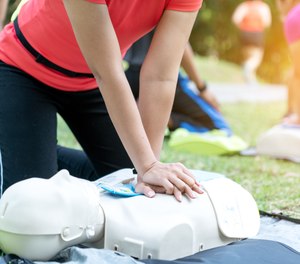 Elijah collapsed near his younger brother, the report said. The team's head coach had already left and another coach and parents were in charge, but "it appears no one knew CPR," WABC reported.
Several people called 911, the report said. The boy's family said it took up to 30 minutes for emergency responders to arrive. Elijah's family is calling for CPR training for all coaches involved in youth sports, WABC reported.
The family did not immediately respond to a request to comment.
A spokeswoman for the Newark Police Department directed inquiries to the Essex County Sheriff's Office. A spokeswoman for the sheriff's office said she had no information. A spokesman for the Essex County Prosecutor's office said the office is not handling the case.
The youth football conference that oversees the Newark team also did not immediately respond to a request to comment.
Elijah was a sixth-grader at KIPP Rise Academy, a charter school in Newark, a spokeswoman for the school confirmed.
"Elijah will be deeply missed by our KIPP students, families and educators and we will remember him as a kind, outgoing student who was a friend to all," said Jessica Shearer, a spokeswoman for KIPP Academy. "Elijah has a brother and an aunt learning and teaching within our school. To support the Brown-Garcia family as they navigate this tragedy, please donate to their GoFundMe."
The family set up a GoFundMe to help cover funeral costs.
"Elijah was an outgoing, loving young kid. He loved dancing and football and loved his family. He made sure everyone was comfortable with his infectious smile. He loved going to school and he loved his friends," the GoFundMe page says.
"At a young tender age of 12, Elijah passed away playing football, doing what he loved," the page says.
---

Read next
Research: U.S. cardiac arrest deaths plunge, but not in Black and rural communities
The study's lead researcher said the findings are a strong reminder that bystanders who witness a cardiac arrest should quickly call 911 and perform CPR
---
©2023 Advance Local Media LLC.
Visit nj.com.
Distributed by Tribune Content Agency, LLC.
McClatchy-Tribune News Service