4 more patient assessment scenarios that are actually useful for EMS students
Realistic scenarios that reflect the patients EMTs and paramedics regularly encounter are critical to preparing students for the challenges of the EMS profession
---
In the classroom and simulation lab, EMT and paramedic students often encounter patients with chest pain, asthma or a seizure disorder. Too often, those training scenarios happen out of proportion to the frequency of those calls in the field. Years ago, I suggested four patient assessment scenarios that are actually useful for EMS students. Those scenarios, which feel like the bread and butter of EMS, were:  
Elderly patient fell in their bedroom 

Middle-aged patient reported as "intoxicated for days"  
Elderly patient who is weak and shaky 

Feeding tube has fallen out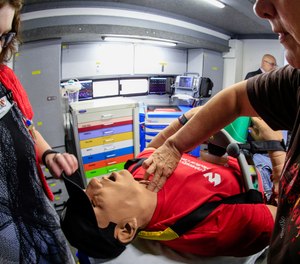 Here are four more patient assessment scenarios to add to your class' patient assessment drills or to use with a high-fidelity patient simulation mannikin. 
1. Unresponsive SNF patient 
Scenario: You are called at midnight to a skilled nursing facility for an 85-year-old female resident. She has been unresponsive since 3 p.m. and has a history of diabetes, hypertension and dementia. Her vital signs are unstable, staff are unsure of her end-of-life wishes and she doesn't have any family.  
Teaching points: Discuss the importance of starting with a primary assessment; and supporting airway, breathing and circulation while obtaining more information. Discuss any differences in care if the patient is febrile.  
2. Spaced-out man on the street 
Scenario: A catatonic 45-year-old male is reported by a store owner who tells 911 the man is sitting on the ground mumbling, and has a history of alcohol and drug abuse. The man is disheveled, and has multiple lacerations and abrasions on his arms and face that look to be several hours or days old. He is awake, but doesn't respond to any questions.  
Teaching points: During the scenario, discuss consent to treat, potential causes of the patient's conditions, field treatment and a transport destination. Discuss any changes in a treatment plan if the man attempts to walk away or if he pushes away EMTs as they try to check his vital signs.  
3. Confused man in the park 
Scenario: A man is found confused and disoriented in a public park. Police officers don't know the man's name and he isn't responding to their questions. Police say, "He might be on something." The patient appears agitated and anxious. He is sweating profusely and having difficulty standing.  
Teaching points: Discuss potential causes of the patient's altered mental status and how you might attempt to calm the patient. Also discuss the importance of planning and coordinating actions with the police officers.  
4. Panic at home 
Scenario: A young woman is found in her apartment with symptoms of a panic attack, including rapid breathing, chest pain, shortness of breath and dizziness. She says her hands are numb and she is scared about being separated from her children. A man is outside on the porch and occasionally shouts obscenities at the woman and complains loudly that she is "out of control."  
Teaching points: Make sure students identify the scene safety hazards, take actions to make the scene more safe and regularly monitor for changes to scene safety. Also discuss treatment of a panic attack, the need for hospital transport, and what additional care or services might be needed.  
Realistic scenarios 
Make sure your EMT and paramedic students are encountering a wide range of patients in patient assessment drills. The skills of assessment and care, as well as critical thinking about scene safety and transport destination, need to be generalizable across all the patients they may encounter in the field.  
How do you make your patient assessment scenarios and high-fidelity simulations real and reflective of actual calls students are likely to encounter? Share your strategies with us at editor@ems1.com.  
---

Read more:
How to make scene safety a core part of every EMS response
Attacks on EMS providers by the very people we are trying to help are becoming all too common: Review your safety practices and training
---