CPR: Make the adults learn it
The risk of cardiac arrest increases with age; I would find more comfort in more adults knowing CPR
---
Updated March 26, 2018
CPR has been pushed into the public debate about active shooter response and gun violence prevention more than a month after the Parkland, Florida high school shooting. 
Rick Santorum, a two-time presidential candidate and television pundit, encouraged high school students to learn CPR as better preparation for a school shooter than advocating for gun control legislation during a CNN panel discussion.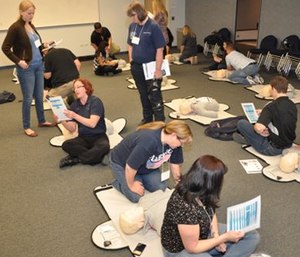 "How about kids, instead of looking to someone else to solve their problem, do something about maybe taking CPR classes or trying to deal with situations [so] that when there is a violent shooter, that you can actually respond to that?", said Santorum, a former Pennsylvania senator. 
Telling children to learn CPR or mandating CPR as a high school graduation requirement is a common tactic of elected officials. In January, 2017 Michigan passed legislation requiring high schools to teach hands-only CPR to students. More than half the states, including California, Kentucky and Illinois have a similar graduation requirement.
Increasing the pool of potential bystanders to recognize sudden cardiac arrest, activate 911, perform hands-only CPR and apply an increasingly ubiquitous AED is clearly important in making dramatic increases to cardiac arrest survival. Students are also an easy target for mandated first aid training requirements since they are unable to vote, are not represented by well-funded lobbying groups or advocacy agencies and are a captive audience nine months a year. It's not hard for me to imagine a group of well intentioned, though hypertensive and obese legislators saying "Let's make the kids responsible for saving our lives … and everything else," followed by a slightly evil chuckle.
Cardiac arrest happens, but is relatively rare at skate parks, shopping malls, pizza parlors and other places teens congregate. The majority (70 percent) of out-of-hospital cardiac arrests happen in private homes.
The risk of cardiac arrest increases with age. I am many decades away from my years as a teenager and twenty-something, but I spent very little time hanging out in the homes of geriatric friends and relatives. That's likely the case with the teens you know today.
Mandate adults to learn hands-only CPR
Adults, especially those over 50, are a better target for mandated CPR training. Ask your legislature to mandate hands-only CPR training for all adults in your state, but I suspect your request will be met with a long blink and a reminder that your state has already passed that responsibility to the kids or is planning to pass legislation soon.
A short instructional video could be a part of driver's license renewal, hunting permit purchase or voter registration. Add a hands-only CPR demonstration to voting locations. This could be especially effective since the citizens who show up to the polls already have a sense of civic duty and might be more receptive to or likely to come to the aid of a cardiac arrest victim.
Legislate other first aid skills
Requiring CPR skills instruction, AED placement and access to epinephrine to treat anaphylactic reactions have been successful legislative efforts in many states. Other one-off first aid skill and equipment efforts, such as public access naloxone, are likely to continue. It would not be surprising if the "Stop the Bleed" campaign morphed into a legislative mandate to place tourniquets in schools, malls, airports and other public buildings, which is likely to include making tourniquet instruction a graduation requirement.
Since lifesaving skills are one of the rare issues to attract bipartisan support, we might ask legislators to expand the requirements to include instruction on relief of a foreign body from the airway and how to use a fire extinguisher. Alternatively, we could bundle all of these requirements into a single certification and make emergency medical responder a graduation requirement.
As my personal risk for cardiac arrest increases with each day of aging, I would find more comfort in more adults knowing CPR. I want to see the members of the baby boom, Gen X and Gen Y saturated with hands-only CPR before requiring more millennials and kids in Gen Z to learn hands-only CPR. Meanwhile, kids can keep learning first aid basics as part of teenager vocational training — babysitting and lifeguarding certifications, and through Scouting or Explorer programs.
How would you increase hands-only CPR knowledge in Baby Boomers and Gen X'ers?