Wash. bill aims to ease EMS personnel shortages in small rural communities
The proposed bill would allow small communities that provide joint ambulance services to recruit drivers without medical training to operate emergency vehicles
---
Kerri Sandaine
Lewiston Tribune, Idaho
OLYMPIA, Wash. — Sen. Mark Schoesler, R- Ritzville, is sponsoring a bill that would make it easier for small communities to provide joint ambulance services, as the 2021 legislative session gets underway in Olympia.
If approved, the proposal could help two small Whitman County towns — Garfield and Farmington — continue operating their combined emergency medical services.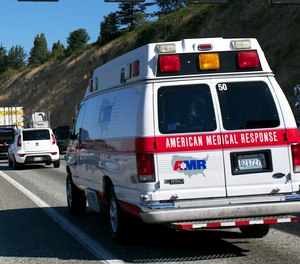 A 2017 state law allows rural ambulance-service providers to overcome personnel shortages by allowing ambulance drivers who don't have first-aid or medical training to operate emergency vehicles. It inadvertently left out ambulance services shared by two or more municipalities, such as Garfield and Farmington, according to Schoesler.
"This bill would let shared ambulance services continue operations so these communities don't have to turn to other providers farther away, simply because the driver of the ambulance isn't trained in first aid," he said.
His proposal would permit ambulance services provided by two or more municipalities in a rural area to use a driver without any medical or first-aid training.
"My bill and the law it would update both work because when an ambulance carries a patient to a hospital, the driver really doesn't have a role in caring for the patient," Schoesler said. "The EMTs in the back really are the persons in charge. The driver simply needs to be at least 18, pass a background check and possess a valid driver's license with no restrictions. This is a common-sense proposal that uses the co-op principle to meet the needs of rural communities."
According to a news release, Senate Bill No. 5198 has been referred to the Senate Housing and Local Government Committee for a public hearing at 8 a.m. Thursday. Schoesler introduced similar legislation in 2019.
In addition, Schoesler, who represents Asotin, Garfield and Whitman counties in the 9th District, has introduced a bill to provide relief for Washington employers who are facing the possibility of paying higher unemployment-insurance taxes.
According to a news release issued Tuesday, Senate Bill 5197 would adjust the calculation used to determine the taxes.
"The state's unemployment insurance fund shrank significantly over the past year for a couple of reasons," Schoesler said. "The economic shutdown caused by COVID caused workers in our state to file a shockingly high number of unemployment claims — and then hundreds of millions of dollars were lost by our state Employment Security Department to foreign fraudsters. Now employers in Washington could be forced to pay more in unemployment insurance taxes, for reasons that aren't their fault. My bill would at least provide some needed stability at a time when our job providers really need it."
Schoesler, who owns and operates a wheat farm near Ritzville, says the past year has been especially difficult and unusual for most Washington employers.
"First, the government forces so many of them to close, driving up the number of unemployment claims and draining the fund that pays those claims; then the government wants more tax to refill the fund. A local chamber member, who was forced to lay off people during the initial lockdown but hired them all back as soon as possible, told me their (unemployment insurance) rate went from about .4 percent to nearly 4 percent. That's as unfair as it gets."
The 9th District legislator is a co-sponsor of SB 5171, which would take $1 billion from the state's rainy-day fund to help "backfill" the unemployment insurance money that had to be paid out so unexpectedly.
"Our state's rainy-day fund was created so it can be used for real emergencies. It's an appropriate source for this needed relief, and could make the difference between survival and failure for employers who are still hanging on," Schoesler said.
The bill to provide relief for Washington employers facing higher unemployment-insurance taxes, SB 5197, has been referred to the Senate Labor, Commerce and Tribal Affairs Committee, and SB 5171, to backfill unemployment insurance money, has been sent to the Senate Ways and Means Committee. To date, no public hearing has been scheduled for either proposal.
___
(c)2021 the Lewiston Tribune (Lewiston, Idaho)
McClatchy-Tribune News Service