Patient steals ambulance, hits two cop cars during chase
During a hospital transfer, a patient overpowered two MedStar employees and took control of the rig
---
By News Staff
CLINTON TOWNSHIP, Ariz. — A patient slipped out of his restraints and overpowered two MedStar employees before taking over the ambulance during a transfer.
ABC15 reported that an ambulance transporting a patient from McLaren Hospital to the psychiatric wing at Havenwyck Hospital was hijacked after the 42-year-old patient slipped out of his restraints at some point and overpowered the crew member in the back.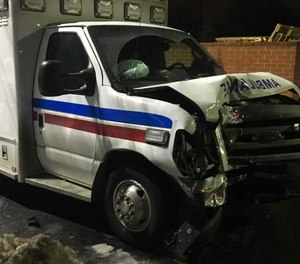 Then the patient made his way to the front and forced the driver out of the vehicle according to Scott Hicks, director of administrative services for MedStar.
Despite the patient disabling the anti-theft locks in the rig, MedStar was able to use GPS to track the location of the ambulance and provide the information to Clinton Township police.
During the chase, the patient hit two police deputy cars with the ambulance before crashing into a tree. One officer was taken to the hospital as a precaution for a minor injury.
Police are suggesting the suspect be charged with fleeing, eluding and carjacking.