Airman recalls rescue of woman in submerged ambulance
Air Force Tech. Sgt. Ryan Fontaine helped EMS providers free a 91-year-old woman from an ambulance stuck in a slough
---
By EMS1 Staff
WARD COUNTY, N.D. — A U.S. airman and another good Samaritan helped EMS providers rescue a woman trapped in a submerged ambulance.
Air Force Tech. Sgt. Ryan Fontaine, who is stationed at Minot Air Force Base, came upon the scene while driving on the highway shortly before midnight on Thanksgiving, according to the Minot Daily News.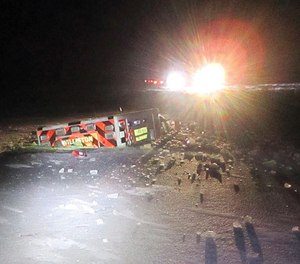 The Williston ambulance had fallen into an icy slough off the side of the road. Three EMS providers had broken a side window to escape but a patient, 91-year-old Dolores Paulson, was still trapped inside.
A jack provided by Fontaine was used to break another window of the submerged ambulance, and Fontaine cleared the broken glass so EMT Hasan Abdual-Jabbar could go back in for Paulson.
"The large chunks of ice in the water made it nearly impossible for anyone to swim in the water around the ambulance, but Abdual-Jabbar made it into the ambulance," Fontaine recalled.
Another good Samaritan, Woody Valdez-Perez, provided a towrope that Abdual-Jabbar looped around the patient and the trio managed to pull Paulson to safety.
Paulson and the EMS providers were transported in two other ambulances and treated for hypothermia.
"The training I received through the military definitely helped me in this event," Fontaine said. "The command and control helped me to assess the situation and to stay calm and think through the process, and the self-aid and buddy care training helped me come up with ways to help get Dolores to safety."