Q&A: An employee praise and recognition program with measurable results
Eve Grau, Co-Founder, Royal Ambulance, a Glassdoor Employee's Choice winner, shares the moments that matter, and how to recognize performance
---
As public servants, we sometimes struggle when receiving thanks and praise for simply doing our job. There is sometimes a slight embarrassment at being singled out for doing something in the team event that EMS and public safety is, but recognizing good work is great for morale and importantly gives credit where credit is due.
Inevitably, when staff are asked how they wish to be recognized, the reply sometimes is limited to pay, terms and conditions. However, in the delicate economic state of some systems, especially in the reduced volume COVID-19 era, money is a tight issue.
One organization that has gained national recognition (and not just inside the EMS industry) for both its operation and its people is Royal Ambulance of San Leandro, California. In February 2021, Royal was honored with a Glassdoor Employees' Choice Award in the U.S. small and medium company category, Best Places to Work in 2021. The award is based solely on the input of employees, who elect to provide anonymous feedback by completing a company review on Glassdoor.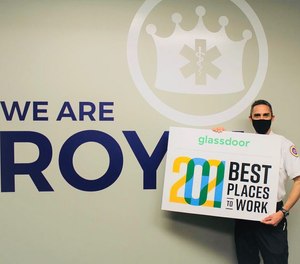 Royal has an incredible company culture that allows people to learn, grow and be their best. Leading the HR and staff recognition effort is Co-Owner and Vice President of Human Resources, Eve Grau. Grau identifies Royal as a building block for young and aspiring healthcare professionals who want to become healthcare leaders and make an impact on the lives of others and the future of healthcare. As a major part of the organization's success lies in the recognition of their most important asset – their staff, I asked Eve three important questions on staff recognition.
EMS1: Explain your company philosophy in recognizing staff and the great work they do.
Grau: At Royal, we have always been very strategic with our praise and recognition program and initiatives. For most of our EMTs, this is their first job in healthcare, and their first step along their journey to become doctors, PAs, nurses, firefighters or police officers. Their experience at Royal sets the foundation for how they treat their patients/customers/community members and has lasting effects on the healthcare professional they become.
For us, it was obvious that prioritizing and creating a feel-good experience where one feels valued and recognized for the work that they do, and the time that they put in is critical to our success and to their success. So how do we strategically create more opportunities to do this, continuously, through multiple channels, for a variety of reasons; share it publicly and have this become engrained into our culture? For us, this started by looking outside of our industry, and identifying what other organizations are doing to improve their employee satisfaction and engagement.
This deep dive consisted of creating journey maps, which helped us identify and visualize all the touchpoints along the employee's life cycle with us. We then broke out each touch point into more detail, and viewed it from the perspective of a "moment that matters" and used this as our guiding post for an opportunity to provide praise and recognition:
Completing new hire academy
Completing FTO time
Passing the first 90 days
Running 100 calls
Birthdays
Work anniversaries,
Even leaving Royal for a new job or school
Each one of these moments is begging to be celebrated, and deserves to be. So why not take the opportunity to do so? It costs nothing, it just takes planning, effort, consistency and a desire to uplift others, and the ROI is huge, for everyone involved.
In what ways do you recognize your staff for good work and deeds?
We created a culture where peer-to-peer praise is encouraged, and where leaders are focused on looking for what someone did well, and not what they did wrong.
Attendance is a perfect example of something EMTs frequently get called in to discuss, and we all know that typically means poor attendance. Why not flip the script? Highlight the names of the individuals whose attendance has been stellar, who have been picking up extra shifts to help out. When they arrive to work or clock out, catch them in person and simply thank them for being such a rock star, let them know how much the company appreciates it, and how it positively impacts our patients and their fellow partners. Ideally, do this in a public setting, so others can hear. Not only does this make the individual getting the praise feel good, it also impacts their continued behavior of getting to work on time, and encourages others to do the same.
However, face-to-face is not always possible, especially in our line of work. So, it was critical for us to find a tool that allows us to communicate, collaborate and connect with our people out in the field. We chose Workplace by Facebook (essentially our own internal social media). As we built out Workplace and designed our process for using it, peer-to-peer praise and groups dedicated specifically to sharing positive stories and experiences with one another were created, driving engagement and allowing us to take praise and recognition to the next level, and to a larger audience.
Every time a new trainee passes field training time, their FTO goes onto workplace, and creates a custom congratulations post for them. Once the post goes up, it gets flooded with likes, comments of praise and recognition from others in the organization and turns into a perfectly planned online love fest, where everyone feels good, especially the new trainee. It's an important moment that matters for them. This moment was recognized, elevated and publicly shared. Our bet is that this individual will start the first day in the field on their own just that much more confident and excited, and so will their new partner that day.
Another way we use Workplace and leverage the concept of peer-to-peer praise is through our exit interviews. We strive to do the majority of these in person, and afterwards, always follow up with an anonymous survey to get more open and honest feedback. One of the questions we ask is, "Are there any team members that have stood out, gone above and beyond or that you want to give props to?"
We then create a Workplace post, where we share a photo of the person leaving, congratulate them on their accomplishments, share where they will be going next, and wish them all the best. We also take their answer to this exit interview question and tag the person(s) getting the praise.
It's another win-win feel good scenario during a moment that matters. An employee devoted themselves to your organization, learned and developed personally and professionally and now are ready to move on to the next step in their career that they are excited about and proud of. So they leave Royal feeling good and will be that much more likely to refer us to a friend in the future or to participate in our alumni program.
Now everyone feels good: the person giving praise, the person receiving praise, the people reading the praise, and Royal for facilitating this exchange. One post, touches many, with far-reaching and lasting implications positively impacting engagement, behavior and morale.
What are the benefits of staff recognition, in terms of business development, customer satisfaction and retention?
Like with any other program or initiative within your organization, your praise and recognition program must have KPIs associated with it, and a way of measuring your ROI. For us at Royal we have seen the following improvements:
Increase in average length of stay for EMTs (from 8 months to over 1 year)
Increase in positive employee net promoter score (from 78% to 92% agree/strongly agree)
Increase in our quantity and quality of Glassdoor and Facebook Reviews (from 4.4 to 4.9)
Increase in the amount of field training officers applying for the training position (from 8/round to 22/round)
Increase in positive exit interview experience scores (from 74% to 89% agree/strongly agree)
Increase in the amount of employee referrals (for 2019/2020, 58% of our hires came from employee referrals)
Our praise and recognition program has become one of the cornerstones of our culture and of our brand. We differentiate ourselves by the experience people will have during their time with us. Not only do we promise to help them reach their career goals faster (whether within or outside of Royal), we also promise to provide a meaningful experience professionally and personally – and that starts by recognizing, celebrating and rewarding individuals whose actions and behaviors align with our organizational values, and by taking it up a notch, and encouraging everyone at Royal to do the same. Peer-to-peer praise is just as powerful a tool and allows us to share the ownership and the responsibility of our praise and recognition program with the whole organization.
If you can create a culture where everyone is proactively looking for "the good" and feels empowered and excited to make someone else's day better and brighter, you will inevitably see a positive impact on the way your patients and your customers are treated, let alone the way your workforce treats and engages with one another, all of which will have a positive impact on your revenue, your retention, your engagement and your brand.