The weight of a thank you
You never know when a simple "thank you" to an educator, nurse, law enforcement officer or firefighter might make a life-changing impact
---
I received an unexpected thank you from a mentee a few weeks ago – a thoughtful gift and card thanking me for my efforts as her EMT preceptor. That same week and for several weeks prior, I had been feeling burnt out and exhausted from doing too much. I felt unmotivated, uninspired and spread far too thin. Little did she know that her simple gesture of thanks would be enough to reverse a temporary but trying downward spiral.
Several years earlier, a similar situation took place. While considering a resignation from the volunteer agency I've loved for most of my adult life, I received a lengthy, hand-written note and flowers from the mother of a young man who had recently taken his own life.
While there was nothing we could do for her son that day, his mother was overwhelmingly appreciative of the dignity and respect shown towards both her and her son on scene. During a profound period of grief, she still took the time to show appreciation for the efforts that went into ensuring she had proper goodbye. Her note was impactful enough to extinguish any thoughts of a resignation and it remains in my locker to this day as a reminder that our smallest actions sometimes leave the biggest impressions.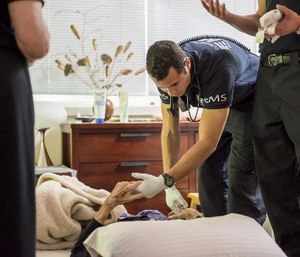 SEVEN people we are grateful for
In a profession of public safety and servitude, we can neither ask for nor expect thank yous, but we can give them to others. A simple, genuine gesture of appreciation can make a significant difference in the lives of those around us. We – EMTs, paramedics, first responders – are surrounded by people who deserve our gratitude:
The teacher. The EMT teacher who really made it click. The paramedic instructor who made EKGs seem easy and med math seem possible. The field training officer who let you trip but never fall, who celebrated your victories and made your challenges worthwhile. The one who went above and beyond to make sure you would succeed, who kept the bar high and never cut corners. The one who shaped who you are as a provider and inspired you to pass it on.
The police officer. The police officer who clears your scenes and acts as your shield. The deputy who does compressions, holds the IV bag and helps carry your patient when hands are limited. The trooper who makes you feel safe, who would take a bullet for you. The one who may not know your name, but treats you like family. The one who risks their life each time they mark "on duty" and hasn't heard a "thank you" in far, far too long.
The nurse. The nurse who really listens to what you have to say. The charge nurse who asks what you think and thanks you for the care you provided. The one who's been on her feet all day in a full emergency department and is still smiling. The one who treats his patients – your patients – with kindness and compassion, no matter the kind of day he's had at home or at work. The one who is brilliant and passionate and strong and good.
The dispatcher. The 911 dispatcher who gets you what you need before you know you need it. The one who asks the right questions and keeps her cool. The one who sees the big picture, but is attentive to detail and saves lives from miles away. The telecommunicator who knows when something isn't quite right and does everything he can to keep you safe, all while forgiving your late-night radio errors.
The firefighter. The firefighter who – even though he may rather be fighting fire – makes sure your patient is well taken care of before you arrive. The fire officer who's happy to help and never inconvenienced. The one who carries your things so you can focus on patient care. The one who stabilizes the car, extricates your patient and sets up your landing zone. The one who spends hours in a burning building, searching for victims, and cleaning up the aftermath.
The supervisor. The field supervisor who leads by example. The one who works with you, not above you, and always has your back. The quality improvement officer who fosters your growth and supports your strengths while working to strengthen your weaknesses. The one who's invested in you and believes in you, and is fair and objective. The training officer who understands that imperfection does not equate incompetence; the one who can listen and truly hear.
The partner. The partner who supports you on your worst days and celebrates your successes on your best. The one who predicts your next move and doesn't miss a beat. The one you can talk to about good calls and bad calls. The one who you laugh to tears with and consider family.
The list of those who help us make a difference goes on. In EMS, we're lucky enough to see an incredible amount of good within the tragedies we face. We're given the humble privilege to see patients at their worst, but with the bad comes the opportunity to see our co-responders at their best.
We change lives with medicine, words and touch, but we don't do it alone. Be grateful for the opportunity to be a part of the change for the better, and even more grateful for the people around us who make it possible. You never know when a simple "thank you" might turn someone's day around.
Who else is on your list to thank? Write them a note or leave a thank you in the comments.
This article was originally posted July 13, 2018. It has been updated.