Recruiting in the age of social media
If we want to keep up, it's time we change gears and evolve from a traditional recruitment strategy
---
As an industry, EMS is currently seeing a mass shortage of paramedics and EMTs, leaving many organizations facing a staffing crisis. Paramedics, EMTs and even nurses are changing careers after burnout from the increased demands during the most challenging times of the COVID-19 pandemic, as volumes rise.
To alleviate the result of high turnover rates and an increasing lack of interest in the medical field, it is imperative that organizations focus their energy on effective recruitment and education about our industry. We need to highlight the crucial roles prehospital care providers play and the rewarding careers they can have; this should be the main goal of recruitment. Often, this cannot be done in a simple positing on your company page or job search websites.
The days of opening the Sunday paper and searching for a job in the "Help wanted" section are long gone. Recruiting and advertising your organization's job opportunities in the prominent social media age have taken on a new meaning. To grab the attention of – and compete for – the small number of job seekers in our industry, we must transform our former recruitment practices and appeal to them on a social media platform they are already engaged in.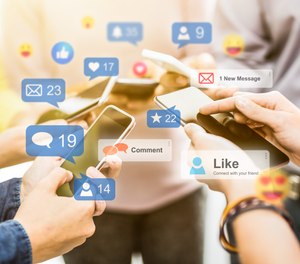 By utilizing social media to feature our organizations, we can do a better job reaching a large group of people in an easy-to-access platform. In this day and age, ease of access and "right at your fingertips" is what folks are looking for. Utilizing social media to advertise our current jobs postings can also be cost effective for your organization.
Showcase your culture
Social media not only allows you to advertise your current job listings, but also offers the opportunity to showcase the true culture of your organization. TikTok has taken over the social media scene with everything from quick tips on daily tasks to fad dances that draw in large groups.
Imagine engaging a large group of individuals with things like the "Top 10 best midnight EMS eats" in your area. How about a dance-off with your local law enforcement and/or fire agencies? This kind of collaboration demonstrates unity in EMS and illustrates the special relationships we have with our co-responders. These are just a couple examples of unique ways to show what your organization has to offer, but how do we go about doing this?
---

Read next
Recruiting the next-gen EMT
Promote a paradigm shift in your recruiting practices to hire your next employee and keep them engaged
---
Empower and involve staff
Within my organization, we formed a recruitment committee. This committee is made up of current employees who have volunteered and are interested in developing ideas for social media posts, researching what's trending and/or creating social media content themselves. This is a great way to empower your employees and get them involved in a fun new recruitment process. There is also a bonus to this process and that is the employees get to work closely with members of management on a task they may not normally be a part of.
We must not forget that our current employees are definitely experts in our local 911 system and this makes them the best people to showcase the organization's culture and reasons why it is a great place to work at.
Once a social media campaign is started, it is important to maintain your audience. Preparation is key:
Develop a schedule of how you want to post
Identify the posts you will put out
Ensure you have new content
Create content in advance
Frequent posts, along with the utilization of specific hashtags will keep you popping up in current social media feeds. This will keep your organization in front of as many people as possible. EMS is a fast-paced industry but social media is even faster. If we want to keep up, it's time we change gears and evolve from a traditional recruitment strategy to streamlining our organization's presence through social media.