How to become a flight paramedic
What does it take to become a flight paramedic, an advanced career in EMS?
---
Flight paramedics have one of the most exciting jobs in the world. They are on the front lines working in aero-medical emergencies, transports, and evacuation missions. This job combines the skills of a critical care professional with the excitement of mobile air rescue. Download our how to become a flight paramedic checklist to help keep yourself on track.
More specifically, flight paramedics are responsible for working to recover or stabilize the patient while in transport to a qualified medical facility. This requires providing emergency medical care for those with severe injury, trauma or illness. Flight paramedics must be able to work in extremely high-stress environments. 
What is the job outlook and salary of a flight paramedic?
Nationally, there are approximately a quarter million paramedics; however, only about 2,000 of those are certified flight paramedics, according to data from 2011.  While the Bureau of Labor Statistics does not differentiate between a paramedic and a flight paramedic, their data anticipates a 24 percent growth rate for the EMS industry, as a whole – a favorable insight for potential flight paramedics.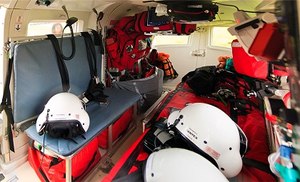 The salary and pay expectations for a flight paramedic are typically higher than a ground paramedic, typically ranging between $40,143 and $48,220, annually. This number can vary greatly depending on particular factors, including standard regional salary differences.
Preparing to qualify for the flight paramedic exam
In order to become a flight paramedic, you must first be trained as a ground paramedic. This process will include finishing EMT basic training (EMT-B) and completing the NREMT accreditation exam. While working as a ground paramedic, it is also crucial to continue education by attending training courses and receiving as many certifications as possible. It's also important to keep all certifications current. The additional requirements for a flight paramedic are:
TNACT-, CCEMTP, ATLS-audit Certification
Basic Life Support
Advanced Cardiac Life Support
Pediatric Advanced Life Support
Pre-Hospital Trauma Life Support
In addition to having the necessary certifications, an interested candidate must also meet other basic requirements, such as being over the age of 18, having at least three years of paramedic experience, and passing a criminal background check and drug test. There are also desirable characteristics for flight paramedic candidates like being physically fit, working well in small spaces, and excelling in high-stress trauma and critical care treatment events.
What is the flight paramedic exam like?
After at least three years experience as a paramedic has been obtained and all of the necessary certification requirements are met, the FP-C exam may be taken. 
The exam is administered by the Board for Critical Care Transport Paramedic Certification (BCCTPC) and takes 2.5 hours to complete with a total of 125 questions spanning many subjects. The BCCTPC has a candidate handbook that provides additional details as well as sample questions. 
An example question featured in the handbook is as follows:
For the average sized adult patient who has suffered severe burns, adequate fluid can be demonstrated by a minimum urine output of:
A.    4-8 mL/kg/hr
B.    30-50 mL/hr
C.    10-20 mL/hr
D.    2-4 mL/kg/hr
The International Association of Flight & Critical Care Paramedics (IAFCCP) also has additional materials to help prepare for the FP-C exam.
Are you a flight medic? What tips do you have for a paramedic considering a career as a flight medic? Comment your answers below. 
 
Checklist: How to become a flight paramedic