Photo of the Week: Wash. FF-EMTs finish mowing lawn for injured man
When Harold Storelee, 88, broke his hip while cutting his grass, West Thurston Firefighter-EMTs made sure he both he and his lawn were well taken care of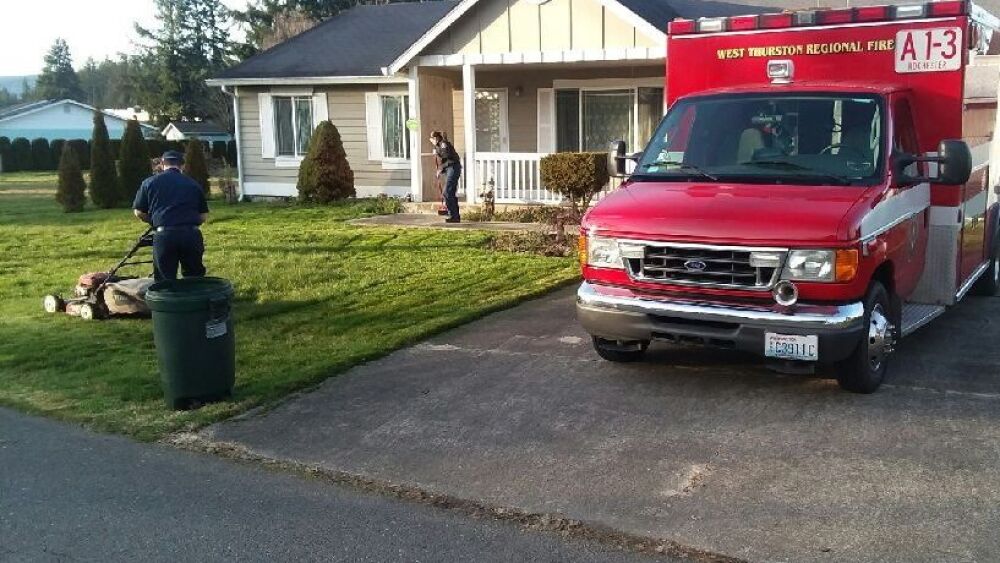 Calling all EMS photographers! EMS1 wants to see pictures of you in action or training. Submit a photo — it could be selected as our Photo of the Week! Be sure to include your name, department information and some background on the photo.
This week's Photo of the Week shows West Thurston (Wash.) Regional Fire Authority Firefighter-EMTs picking up where their patient left off after he suffered a broken hip while mowing his lawn. Harold Storelee, 88, was left immobile on the grass for four hours before a group of boys found him and called 911, according to the Washington Post.
The three-person crew transported Storelee to the hospital and handled several other calls before deciding to go back and finish cutting the patient's grass once things calmed down. Firefighter-EMTs Alexander Trautman, Miranda Panuska and Garrett Bromley spent about an hour finishing the lawn and tidying up.
Neighbor Cheryl Jones snapped the picture, which was shared on Twitter by Storelee's grandson Aiden Martin. Martin said the lawn is his grandfather's "pride and joy."