EMS: So much more than lights and sirens
Celebrating those who spend their days and nights helping others when they need help the most during EMS Week 2018
---
In honor of EMS Week, share this article with your community to educate the public about the role EMS plays, and how they can help by learning CPR and how to stop the bleed. EMS is "Stronger Together," and citizens can contribute to that strength when they are educated on lifesaving interventions.
By Heidi King, EMS1 Contributor
When I first became an emergency medical technician, I thought being on an ambulance would be constant excitement: driving with lights and sirens to rescue injured victims of traffic crashes, delivering babies in people's homes, taking men and women with strokes and heart attacks quickly to the hospital.
I soon learned that not every 911 call involved a life-threatening emergency requiring rapid transport. A nursing home resident fell and needed stitches. A child's fever spiked, causing a seizure. A teenager broke his leg trying to score the winning run. Emergency medical services (EMS) providers do much more than race to the scene and deliver people to a hospital. Every day, these highly skilled, dedicated professionals provide expert medical care and – perhaps most important – a hand to hold or a shoulder to lean on.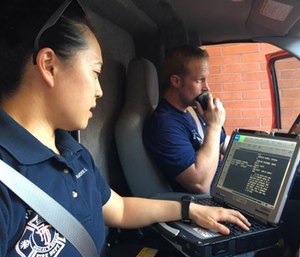 Although I am no longer an EMT, I am privileged to work with the EMS community as deputy administrator of the National Highway Traffic Safety Administration. Since NHTSA's founding nearly 50 years ago, supporting local EMS systems has been an integral part of our mission to keep people safe on America's roadways.
Since 1974, NHTSA and our Federal partners have joined communities across the country to celebrate EMS Week, when we honor local EMS providers and the individuals who spend their days and nights helping others when they need it most. This year's theme for EMS Week is "Stronger Together," reflecting the teamwork that goes into providing high-quality medical care in the field.
EMS providers protect community health and safety
We also recognize the important and critical role that EMS plays in protecting our Nation's health and safety – a role that goes much further than most of us realize. Here are just a few examples:
The opioid crisis – In addition to treating overdoses, EMS services are working to prevent them through partnerships in the community. Law enforcement and public health officials use EMS data to study where overdoses occur and even predict where the most potent opioids might cause a problem next. Others serve on county opioid awareness task forces. Some are piloting programs using paramedics to check on overdose survivors and to connect them with rehabilitation services.
Trauma care – Modern EMS is in many ways the result of an epidemic of fatal car crashes half a century ago. Since then, EMS has evolved into a system of highly trained responders providing critical care in the field and taking patients to designated trauma centers. Yet roadway crashes continue to injure and kills thousands of people in the United States each year. NHTSA, along with its Federal, State and local partners, is committed to reducing trauma deaths by providing resources to EMS, hospitals and the public.
Prevention – EMS professionals also know that the best way to improve the health of communities is to prevent illness and injury, and avoid the 911 call in the first place. That is why EMS agencies across the country are actively educating people about important safety issues, such as the danger posed by leaving children unattended in vehicles; already this year, too many kids have died of heatstroke after being left in cars. Because they know how devastating it is to respond to one of these incidents, EMS agencies frequently partner with community organizations to keep these tragedies from occurring.
As we celebrate EMS Week, we also recognize the many people behind the scenes: emergency telecommunicators who remain calm during chaos while answering 911 calls, fleet maintenance and logistics personnel who keep ambulances and other response vehicles running and supplied with lifesaving equipment, administrative teams who keep the lights on and continuously look for ways to improve services, EMS physicians who perform critical clinical oversight, and educators who prepare caregivers to face whatever they encounter.
But the EMS system also includes each of you. Without members of the public recognizing an emergency, quickly calling 911 and performing appropriate first aid – including cardiopulmonary resuscitation (CPR) and automated external defibrillators (AEDs) for cardiac arrest or applying pressure to control bleeding from a wound – the work of our EMS personnel becomes much more difficult. So, show your appreciation this week by supporting and thanking your community's first responders, but also by learning hands-only CPR and how to Stop the Bleed. Then we can truly be a Nation that is prepared, resilient and Stronger Together.
About the author
Heidi King, deputy administrator of the National Highway Traffic Safety Administration, is a former 911 dispatcher, law enforcement officer and emergency medical technician. To learn more, visit www.ems.gov.