NHTSA to create prehospital pain management guideline
The organization is seeking applications from interested parties to develop evidence-based guidelines for the pharmacologic management of acute pain in a prehospital setting
---
By EMS1 Staff 
WASHINGTON — NHTSA officials announced a Notice of Funding Opportunity to develop a prehospital pain management evidence-based guideline.
According to a press release, more than five million patients reported pain as their primary symptom in 2016. To achieve a people-centered approach to EMS, finding a safe and effective method of treating a patient is essential.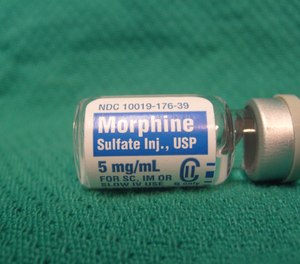 NHTSA is seeking applications from those that want to lead the development of an EBG for the pharmacologic management of acute pain by EMS in the prehospital setting.
NHTSA and AHRQ partnered and have already funded and created literature on the topic, which is expected to publish in early September.  
According to EMS Agenda 2050, finding safe, effective and evidence-based methods of treating pain is essential for achieving the vision of a people-centered approach to EMS.
For more information, visit the EBG resources page on ems.gov.