Ill. widow sues ambulance service for wrongful death, claims negligence
Nancy Gabriel's husband, James, was strapped to a gurney when it rolled off the sidewalk and overturned, causing multiple injuries
---
By EMS1 Staff 
EDWARDSVILLE, Ill. — An Illinois woman filed a wrongful death suit on behalf of her deceased husband against Alton Memorial Hospital Ambulance Service after she claims employees were negligent during transport to a nursing facility.
Nancy Gabriel, widow of James Gabriel, filed a wrongful death lawsuit against the ambulance service on Sept. 4,  Madison-St. Clair Record reported. The lawsuit claims that James Gabriel sustained a cervical fracture while being transporting to a rehabilitation facility and subsequently died as a result of the injury.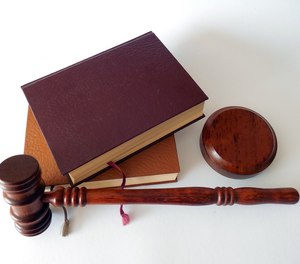 On Feb. 2, James Gabriel was discharged from the hospital and transported by ambulance to the Edwardsville Nursing and Reachability center. Court documents described James Gabriel as an elderly, obese man who suffered from comorbidities. After arriving at the rehabilitation facility, employees strapped him to a gurney, but lost control, causing it to fall to the sidewalk where it rolled and overturned. 
James Gabriel suffered a cervical fracture and multiple other injuries due to the incident, which caused him to be hospitalized, according to the lawsuit.
"As a proximate result of defendant's negligent, James Gabriel did experience pain and disability, plaintiff did incur additional hospitalization and medical expenses, which he would not have otherwise incurred, he became sick and lame and then died on March 23, 2019," court documents stated.
Nancy Gabriel is seeking $50,000 for grief and loss of companionship.