Falck appoints new San Diego director amidst contract changes
John Goward moves in as the city's Fire-Rescue Department takes over staffing, deployment and billing
---
By David Garrick
The San Diego Union-Tribune
SAN DIEGO — San Diego's struggling ambulance provider has appointed a new leader for its local operations, just before major changes to its contract are set to put more ambulances on the street for more hours.
Falck USA announced Wednesday that John Goward, who has more than 40 years combined experience as a firefighter and commercial ambulance official, will replace San Diego managing director Jeff Behm on June 2.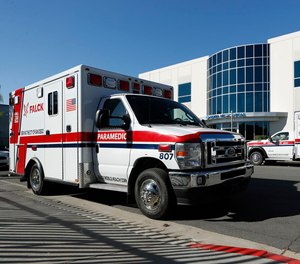 Goward, a 10-year Falck employee, has served as the company's No. 2 local official. Behm, who is leaving the company, has led its San Diego operations since Falck took over ambulance service in the city in November 2021.
Poor emergency response times and the deployment of fewer ambulances than promised have frustrated city officials and prompted the new contract the City Council is scheduled to approve Tuesday.
In addition to requiring more ambulances on the street, the deal would transfer control over staffing, ambulance deployment and patient billing from Falck to the city's Fire-Rescue Department.
Falck would no longer face steep fines for falling short on ambulance hours and response times, but the company would be required to subcontract with a second ambulance provider to boost service.
The council's Public Safety Committee unanimously approved the new contract on April 21.
"I have a great deal of respect for paramedics and EMTs who respond whenever and wherever people need emergency medical assistance, and I'm honored by the opportunity to lead the Falck team serving the city of San Diego," Goward said in a news release.
Behm, who joined Falck in 2021 after leading another ambulance system on the East Coast, praised Goward.
"John's extensive background in both the fire service and private EMS, along with his reputation as an effective emergency services leader, is unparalleled," Behm said. "I'm confident in his ability to lead this team of incredible men and women."
Troy Hagen, Falck's chief commercial officer, said the Danish company remains committed to San Diego despite the contract changes.
Falck employs 400 paramedics, emergency medical technicians and administrative workers in San Diego.
©2023 The San Diego Union-Tribune.
Visit sandiegouniontribune.com.
Distributed by Tribune Content Agency, LLC.
RELATED: Falck to pay AMR to bring service in San Diego up to promised levels
McClatchy-Tribune News Service