Falck to pay AMR to bring service in San Diego up to promised levels
AMR will initially supply 4 ambulances operating 12 hours per day
---
By David Garrick
The San Diego Union-Tribune
SAN DIEGO — More ambulances will be responding to emergencies in San Diego starting May 29 as part of a new contract with Falck USA, which has struggled to meet response time goals since taking over the city's ambulance service in 2021.
The new contract, which the City Council unanimously approved Tuesday, calls for Falck to pay a second ambulance company to bring service in San Diego up to the level Falck promised when it replaced American Medical Response.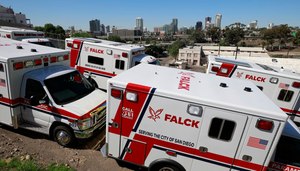 Falck announced Tuesday that AMR, which has continued to provide ambulance service elsewhere in the county since losing its San Diego contract, will be the second provider and initially supply four ambulances operating 12 hours per day.
Those additional ambulances will cover part of the existing gap but not all of it. Falck and city officials said there are plans to add more AMR ambulances once the company has enough equipment and personnel.
The four new ambulances include two that will be stationed in South Bay communities near the U.S.-Mexico border and two that will be stationed in southeastern San Diego.
But Falck officials said the new ambulances will be "floaters," meaning they can be deployed to different areas of the city when need dictates that.
The new contract, which council members called innovative, suspends fines Falck would get for bad response times as long as the company spends the money on additional ambulances from AMR or another provider.
The contract is also part of a wider agreement to transfer control over staffing, ambulance deployment and patient billing from Falck to the city's Fire-Rescue Department this fall.
Fire Chief Colin Stowell said Tuesday that the financial details of making those changes will be presented to the council's Public Safety Committee on July 19 and then to the full council for final approval shortly afterward.
Stowell said the second set of changes will be a fundamental shift by San Diego toward a new trend in ambulance service called the alliance model.
Under the existing model, Falck pays San Diego $9 million a year for the right to charge patients, but under the new model, the city will pay Falck and other providers fees to operate ambulances and will have the right to charge patients itself.
While the model shifts financial risk from Falck to the city, proponents say a new state law that took effect in January gives public agencies better reimbursement rates for Medicare and Medi-Cal patients than private ambulance providers get.
Tuesday's approval of the preliminary contract changes also triggers large pay raises — 17% over three years — for Falck paramedics in San Diego.
Tony Sorci, president of the labor union representing those workers, praised city officials and Falck for working through a bad situation to make what many hope will be significant improvements to ambulance service in the city.
©2023 The San Diego Union-Tribune.
Visit sandiegouniontribune.com.
Distributed by Tribune Content Agency, LLC.
McClatchy-Tribune News Service