An EMS1 Christmas collection
Reading these EMS1 articles, like watching Rudolph and singing Jingle Bells, is a holiday tradition for EMTs and paramedics everywhere
---
Songs, movies, decorations and meals make up the traditions that make Christmas a favorite holiday for many. The "Christmas Story" or "It's a Wonderful Life" are must-watch movies for many. Bing Crosby crooning "White Christmas" or Mariah Carey singing "All I Want for Christmas Is You" are two timeless Christmas traditions.
Through the years EMS1 has published many Christmas-themed articles. Reading and re-reading the articles in this EMS Christmas collection has become a holiday tradition for many EMTs and paramedics. These articles might remind you of Christmas-past or be a new gift as you care for your community during the holiday season.
Silent night: A paramedic Christmas story
This holiday favorite is an excerpt from Kelly Grayson's book "A Paramedic's Story: Life, Death, and Everything in Between." This classic EMS book about life on the street was republished in 2016 as a Kindle ebook and paperback.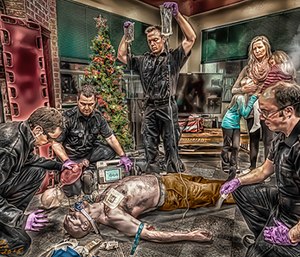 Who better than EMS to reflect the spirit of the season?
The only other person that has better access to every home on earth than EMS is the big man in the red suit. Unlike that guy, instead of bringing toys and trinkets, EMS providers bring the gift of life, calm people when they are afraid, help them when they are sick, and treat them when they are injured. It is a tall task, but find out why Michael Morse believes it is one that EMS providers are perfectly capable of performing. Read more holiday tales from Morse in his book "Captain Scrooge and other Holiday tales: stories about life during the holidays as told by a first responder"
Christmas perspective for the rumpled angels of EMS
Grayson reminds us that the Christmas spirit is all around us. Cops, EMTs, firefighters and nurses bring hope to others just by showing up. We are the rumpled angels who give our best to help people, regardless of their age, creed, race, religion or social standing. 
For EMS providers the holidays can be the hardest time of the year
The sights and sounds of the holiday season bring a rush of excitement, anticipation, cheerfulness and goodwill. But for many first responders, the opposite is all too real. Stress, exhaustion, financial pressures and a front row seat to the pain, suffering and heartbreak experienced by patients and their families can take an even heavier toll than usual this time of year. When an EMS provider can become the light in the darkness, the voice of reassurance, and the calm in the storm then Nancy Magee believes volunteering can become its own reward.
Family and caring for others are best gifts for Vegas medic
During the Christmas season 32-year AMR veteran Rick Ackers does double duty as Sin-City Santa. Learn more about Ackers, an EMS Pioneer, and the gifts of being a caregiver. 
Holiday stories: What Marvin taught me about Santa
Patients during the holidays and Christmas day are some of the most memorable calls EMS providers run. Firefighter/EMT Will Wyatt remembers a boy named Marvin every Christmas morning and how the boy still believed in Santa despite the tragedy that surrounding him.
Photo: Artist depicts an EMS 'Christmas Nightmare'
Every EMS provider knows that patient emergencies don't take a pause for Christmas. A heart attack, COPD exacerbation, domestic assault, vehicle collision, or fall down the stairs is just as likely as any other day. Artist and paramedic Daniel Sundahl was reminded of a horrible scene when he had to cardiovert a father as his family watched.
Top 10 EMS Christmas carols
Kelly Grayson, the ambulance driver, gives classic Christmas and holiday songs an EMS twist in his list of EMS Christmas carols. If you need a few more Top 10 lists to lighten your mood while working on a holiday browse through this collection of Ambulance Driver's Top 10 Lists.
Letters to Santa Medic: Cardioverting the Grinch, favorite apps and an EMT named Larry
Between nonemergent calls, lift assists, runs to headquarters for supplies and dropping the agency's owner off at the airport, Santa Medic responds to a pile of letters from paramedics, EMTs and EMS students.
Ask about Christmas memories during an in-between moment
Asking a patient a single question about a favorite Christmas memory or gift can unlock memories that will distract your patient from their current pain — and fill your day. Ask each of your patients a simple question this holiday season.
What was your EMS agency's "Christmas Story?"
The holiday season, from Thanksgiving through New Year's Day, creates a lot of opportunities for EMS agencies to connect with their community. Use a toy drive or food collection, lights around the station, reuniting a family for a holiday visit or other holiday-themed event as a positive PR opportunity for your agency.
EMS shows how to give back during the holidays
Many EMS agencies go above and beyond for their community during the holidays. EMTs and paramedics, often during their time off, collect toys for children or food for families. Another way EMS providers go above and beyond is reuniting families during the holidays. This article highlights a long-running program in which patients residing in skilled nursing facilities are transported by ambulance to spend Thanksgiving and Christmas at home with their families.
7 reasons why working on Christmas is not so bad
On Christmas Day the few, the brave and the dumb enough to work a holiday enjoy each other's comfort and misery. Here are seven reasons from Michael Morse to help you get through a day of holiday work. 
Frequent Flyers holiday greetings
Working on Christmas Eve, Christmas Day, Thanksgiving and even Black Friday is often a competing mix of joys and frustrations. Lenwood Brown III illustrates the challenges of responding to a shopping mall, eating a holiday meal while on duty and our appreciation for all who serve their community. Thanks.