Ask a simple question during an in-between moment
A single question can unlock memories that will distract your patient from their current pain — and fill your day
---
This article, originally published Dec. 23, 2013, has been updated with current information
I hear over and over from EMTs and paramedics that their best-ever moments in EMS began by asking a patient a simple question about their life, memories or accomplishments. We have many wonderful "in-between" moments in EMS: the time between assessments, the time between leaving for the hospital and arriving at the hospital, the time between arriving at the hospital and giving reports. Use any of these in-between moments to ask your patient a simple question.
Happier holidays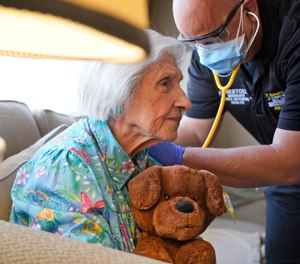 During the holiday season, you might ask patients questions like:
Do you have a favorite Christmas or holiday memory from your childhood?
What was the best gift you ever got? Or the best gift you ever gave?
If you could be with anyone, who would you be with on Christmas Eve?
When you were still cooking, what was on the menu for Thanksgiving dinner or other holiday meals?
Adjust the questions to your patient's age, ethnicity and religion. Be a detective and ask a question that will have meaning to the patient.
Picture their past
At any in-between time, you can ask patients about the treasured photos and other keepsakes they have sitting beside their bed, in their front hall or on their desk. You might ask:
I noticed a photo in your bedroom. Was that you? Who was with you in that photo?
Tell me something about the group of adults and kids in that photo in your hallway.
I saw a picture of a handsome gentleman (or young lady) in a military uniform. Did you serve? Or is that your brother, sister, son, daughter, niece, nephew, mom or dad?
Of course, you can fill the in-between time with checking boxes on the electronic patient care report or fiddling with the cardiac monitor settings. But, that's not going to give you any "I heard this amazing story from a patient today" opportunities for your family and friends.
Most times a single question is enough to unlock a treasure of memories that will fill your day and distract the patient from their current pain or misery. Ask patients a simple question this holiday season and share the results in the comments. Or share one of your favorite questions with other readers.

Request product info from top ePCR– Electronic Patient Care Reporting companies
Thank You!