Improving performance through ePCR documentation (eBook)
Discover the metrics agencies should consider tracking, how to package that data to influence decision-makers and how to improve the quality of ePCR reporting
---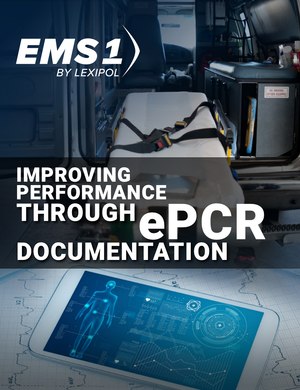 The patient care report is an essential element to help the next providers in the circle of care to understand the assessment and treatment steps already taken.
Complete the form below to download this eBook. 
It also protects the provider and agency from accusations of wrongdoing, documents interventions for reimbursement, and provides valuable data for tracking standard practice and outcomes across the patient care spectrum. 
Understanding how to collect, improve and analyze ePCR data is integral to quality improvement. This eBook reviews the metrics you should consider tracking, how to package that data to influence decision-makers, and how to improve the quality of ePCR reporting.
Share this eBook with your colleagues and begin a conversation about how your agency can improve the data you collect and how you act on it.
Included in this eBook:
3 metrics to track in your EMS operations
How to package and present ePCR data to decision-makers and officials
5 easy ways to improve your ePCR documentation
Fill out the form below to download a copy of the EMS1 eBook "Improving performance through ePCR documentation."
IMPROVING PERFORMANCE THROUGH EPCR DOCUMENTATION