Compassion and conversation provide comfort to a scared child
I am not sure if I have ever been the unquestionable difference between life and death, but I can tell stories about making patients feel better on their worst days well into the night
---
Here is a runner-up in our EMS Week 2015 essay contest. This year's theme was EMS STRONG, and we asked you to share stories of when a pediatric patient made you feel like a superhero. Check out the other winners here.
By Joseph Immerman
I'm not sure if this story will even qualify, as it occurred while working as a paramedic in the emergency room after leaving the ambulance and the helicopter due to lower back issues. It is a way I like to remember how I might have made a difference in people's lives.
We had a young boy of about eight or nine years of age who had been ill with gastrointestinal symptoms for days and was no longer able to keep medicine or nourishment down. My IV skills on the ambulance were never more than average, but working in the emergency room full time had done a lot for my skills and I was asked if I would start the IV on this patient. He was very scared but behaving quite well, and his parents were both in the room doing the best they could to support their son without showing him what they were going through. We were busy that evening, so getting the IV and securing it without help was of great value for more than one reason.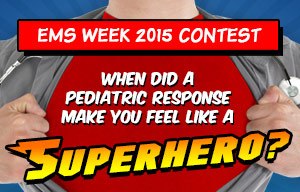 Since time was not a major issue, I sat down by the boy and introduced myself, speaking directly to him with occasional looks to his parents to reassure them as well. I explained what I needed to do and why. I told him that since his stomach was unhappy, the best thing to do was to give him food and medicine in his veins. Knowing he would have looked at it anyway and probably at the wrong time, I took an IV catheter out of the package and showed it to him.  I explained how only the tip would stick him and that the flexible soft sheath was the only part that would actually be in him. I slid the metal needle out of the sheath and gave him the flexible catheter to hold. He cried a little when he first saw the catheter, but then became fairly calm again when he held the catheter sheath.
The catheterization went very smoothly with him barely flinching and not crying before, during or after. As I secured the IV site I told him that he was one of the best patients I ever had (not untruthfully) and that his parents should be proud of him. Then I looked up at this parents. The look of gratitude on their faces was one of the sweetest things I have ever seen.
If one were to ask me to tell them about a time I saved a life during my time in the ambulance, the helicopter, and the emergency room, I would actually be hard pressed to come up with an irrefutable example. I honestly cannot remember ever clearly being the unquestionable difference between life and death for a patient. However if someone were to ask me to tell them of a time in which I changed a lousy day for a patient into a much better day I could tell stories well into the night.  
Although it helps our morale at times, we are not supposed to be doing what we do for reward or recognition, and we flirt with deep disappointment when we set our standard for career satisfaction as having made the difference between life and death.  If you are able to say that you are technically proficient and truly compassionate, then you deserve to bathe in the glow of contentment, which over the long run is worth so much more than any earthly recognition.