How the first U.S. EMS agency adopted, implemented body cameras
Wren Nealy Jr., Cypress Creek EMS chief operating officer, relates how BWCs have contributed to personnel safety, QA/QI
---
Picture this: You are in the back of an ambulance with a combative patient. The patient, who seems confused, is restrained. As the patient continues to try to escape, he notices a blinking red light attached to your protective eyewear.  
Suddenly, the patient stops resisting – he is no longer combative or aggressive.
In this fictional scenario, an escalation to a potential attack was avoided once the patient realized he was being recorded.
Recognizing the value of body cameras in EMS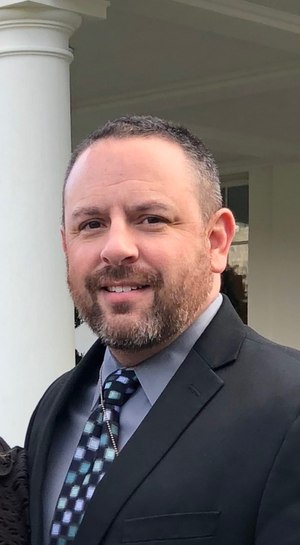 In 2012, Wren Nealy Jr., chief operating officer at Cypress Creek EMS in Spring, Texas, was teaching a TASER and managing excited delirium course. At the time, TASER International, which is now Axon, provided the Flex body camera to all instructors to demo in their courses.
Nealy, a nearly 30-year EMS veteran, also serves as a captain for the Waller County Sheriff's Office and is a former SWAT commander. With over 20 years of law enforcement experience, Nealy instantly recognized the value body cameras could provide in EMS.
"We've known for years that video works great in training and having a small, point-of-view device with the security offered by TASER seemed to be the perfect system for EMS," he said.
Seven years later, Cypress Creek EMS, which services the largest EMS Emergency Services District in Harris County, Texas, became the first EMS provider in the United States to roll out Axon's Flex 2 body cameras and digital data management solution.
Nealy, along with the support of his medical director, Dr. Levon Vartanian, executive director, Bradley England, and board of directors, built the Axon camera program from the ground up.
"There wasn't anyone to really look to for assistance in EMS," Nealy said. "TASER International offered assistance with sample policies from numerous police agencies and a study from Rialto, California, that showed how the cameras resulted in a decrease in use-of-force incidents and complaints."
To ensure the agency implemented the cameras successfully, they started slowly with a trial in 2012 that evolved into a clinical study that lasted 18 months.
Deploying body cameras systemwide
At first, the body cameras were deployed only to supervisors as they responded to all high acuity calls. However, after seeing the success and benefits of the program during the trial, Cypress Creek EMS deployed body cameras systemwide in 2018.
All lead paramedics and supervisors wear the same Axon Flex 2 camera. The camera, Nealy said, is designed to be worn in a point-of-view manner, attached to Oakley protective eyewear.
"We found that POV placement worked better than on the center of the chest," he said. "Capturing the line of sight of the paramedic is important to show what the paramedic is seeing. Is it the vocal cords during an intubation or the ultrasound monitor while performing a FAST exam? POV placement captures it all."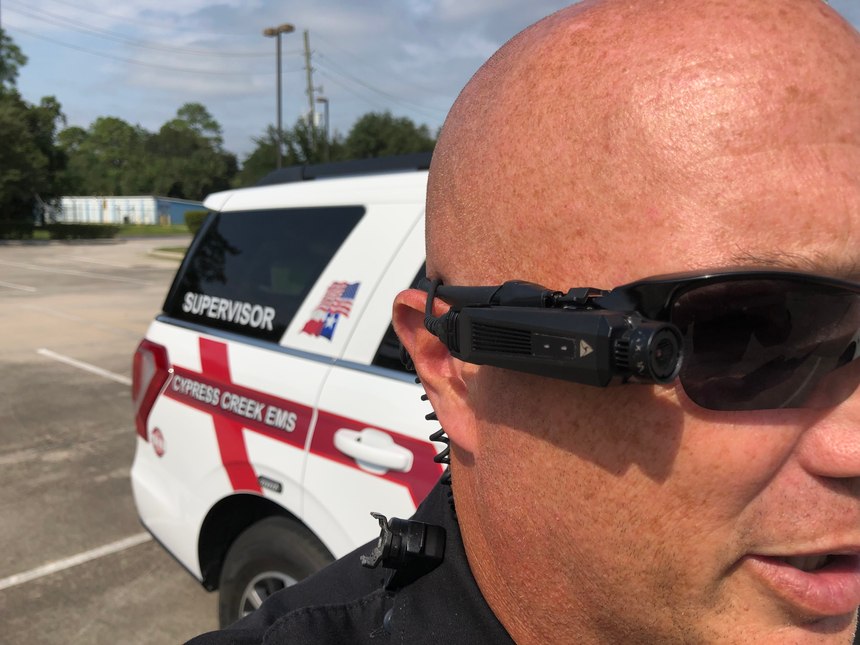 Providers are required to record every response incident and patient encounter through final disposition or when the transfer of patient care is complete, Nealy said.
"Then, using the Axon View application on their smart device, they enter the EMS incident number and categorize the video," he said. "The meta data then stays with the video during transfer. None of the video is on the device; it is just used as a view and application tool. The video is stored on the camera."
When the crew returns to the station, the lead paramedic or supervisor places the camera on the docking transfer station and the video is automatically uploaded to the Axon cloud-based servers.
Because a camera is just a camera, Nealy says the real magic happens thanks to Axon's evidence management system.
"The Evidence.com system is the online system for managing digital evidence of all types," he said. "It maintains the user profiles and authorizations, video retention categories and policies, audit logs, security features that exceed HIPAA and the highest government ratings, a YouTube-style view, and tools to set markers and create clips for viewing important parts of the video."
The agency also has the ability to remove audio clips or images from the videos, to remove any protected health information. Redaction tools remove audio and video from copies, leaving the original video unaltered. "The video, in whole or in part, can then be used in training," Nealy said. "The audit trail documents this and any other activity, which is helpful if the incident ever goes to court."
Each provider went through classroom training on policy and legal aspects, including:
Consent
Privacy
HIPAA
Documentation
Quality assurance/quality improvement review
Cypress Creek EMS policy
"Everyone learned how to use the camera equipment, applications to manage devices and data, and the evidence management system," Nealy said. "Training was four hours and, with each additional deployment, we have added additional training."
Using video as a QA/QI tool
During the trial, Nealy hoped to gain insight on areas for improvement among his providers, such as what's missed during a patient assessment or interview.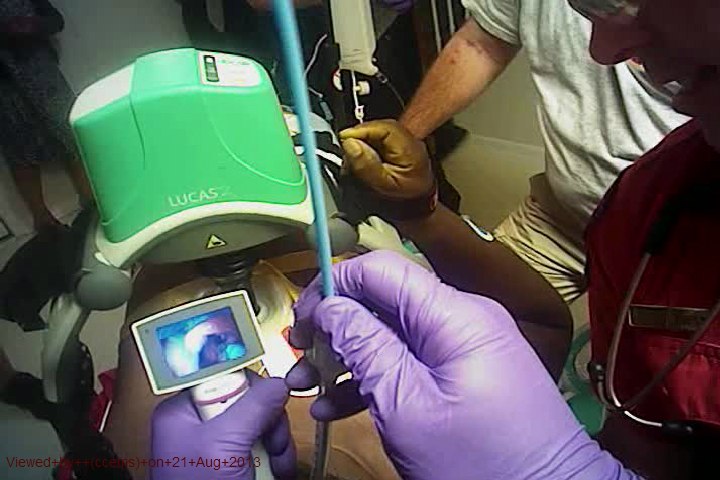 "How many paramedics have asked a patient their name or allergies numerous times? It is like they are on autopilot – just running down a list of questions, but not really paying attention to the answer," Nealy said. "This often irritates the patient and questions their confidence in your abilities."
Prior to deployment, Cypress Creek EMS was not tracking attacks on providers as a data point. Instead, they were using video as a quality assurance/quality improvement (QA/QI) tool to review performance on EMS calls.
"From reviewing videos in the QA/QI process, I viewed incidents where the camera deterred what was escalating toward an attack once the paramedic pointed out the camera was recording," Nealy said. "They realize it will not be their word against our providers' and the recording can be used against them for criminal prosecution."
Fast forward to December 2019, Cypress Creek EMS took the next step and replaced their in-ambulance camera and driver monitoring system with the Axon Fleet 2 system.
"Fleet 2 uses a forward-facing camera mounted to the windshield and a low light, infrared, rear-facing camera. These cameras integrate with the Flex 2 camera," Nealy explained. "They can be activated at the same time due to several user-defined parameters, such as the activation of emergency lights, acceleration, speed, excessive G-force, the opening of unit doors or proximity to another camera on the same system."
The agency recently received a shipment of Axon's Body 3 (AB3) cameras, which incorporate body-worn cameras with live streaming and two-way communication capabilities, to trial through the end of the year.
"Our trial will focus on the application of this technology for telemedicine consults and in our mobile integrated health program," Nealy said. "The AB3 allows the physician to tap into the live video stream of the provider wearing the camera to see what they see and hear what they hear as it happens. They can even interact with the provider or patient through the device."
The camera feed, Nealy said, can only be tapped into by someone with approval access. "There are strict security protocols in place," he said.
Additionally, the trial will also be tested by the communications center supervisor.
"They will have access to view the scene from the perspective of the provider, allowing them to proactively send the appropriate resources sooner rather than later," Nealy said.
From apprehension to positive feedback
Making a single change in EMS can be difficult. When multiple changes are made, implementing those can prove to be nearly impossible.
At Cypress Creek EMS, Nealy said their biggest implementation challenge was the staff's fear of "Big Brother" watching them. However, Nealy said they overcame this by keeping their word on not allowing the video to be used for discipline.
"The only reason the video could be used against a provider is for an illegal, immoral or unethical act," he said. "Foul language, venting about the bosses, or even making a mistake would not result in discipline. These would be managed through the QI process."
Nonetheless, Nealy said the body cameras were initially met with apprehension.
"You always have that 10% that are early adopters, 80% that need some convincing and the final 10% who will never get on board," he said. "We focused on the 80%."
Most of the feedback, he said, is now positive.
"Many providers have had experiences where the video has saved them from a false complaint or physical attack," Nealy said. "Some have learned how to use it as a tool to help accurately recall the sequence of events during patient care, making it easier to write a thorough patient care report."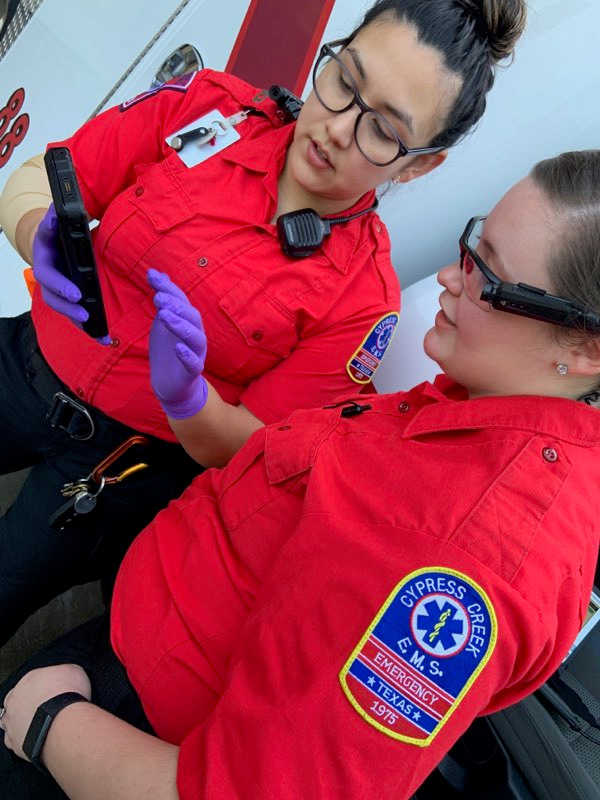 Video from the body cameras, according to Nealy, has also helped resolve complaints from citizens, partner agencies and receiving hospital staff.
"Hospitals are slowly starting to come on board, understanding the benefits to using the video in the total QA/QI process for the patient," Nealy said. "Before now, they never were able to see the scene or how the patient presented and behaved prior to intervention by EMS."
Much like the body camera acceptance battle they endured from their EMS providers, Nealy said they also quickly realized the importance of involving representatives from their hospital nursing staff early on.
"The administrators and physicians may be in favor of it, but if you don't get the nursing staff on board early, it will be an uphill battle," he said. "If I had to do it over, I would seek participation from each facility and offer informational training to their staff."
Most importantly, the body cameras, according to Nealy, encourage transparency, accountability and accuracy, and provide immediate feedback for improvement in EMS.
A first of its kind self-QI process
The body camera program at Cypress Creek EMS has accelerated the agency's clinical improvement process at both the individual and agency level.
"We have documented a 50% reduction in field training time for clinical credentialing," Nealy said.
Furthermore, the agency's QA/QI process has also improved and become more effective.
"The video allows for a first of its kind self-QI process. The provider is required to review the video and complete a simple online form," Nealy said. "Any call that's pulled for a QA/QI review has a longer form that's completed by the provider, which forces them to answer specific questions about their performance."
Additionally, being able to review case studies or near-misses is invaluable in correcting behavior.
"Clinical situational awareness or scene security situational awareness all have indicators or cues that, if recognized, are signs of what is to come," Nealy said. "Be it the early indicators your patient is decompensating to how your patient changes their stance and displays other physical indicators of aggression."
Having providers review their own video helps them identify the "triggers" that can often preempt an attack.
"Attitude begets attitude and force begets force. Often, paramedics create the pre-attack situation by how they approach and talk to patients or family members."
Ultimately, self-improvement, according to Nealy, must start with each provider reviewing and learning from their own videos. After all, there is no replay or rewind in the real world.
Read next: Verbal de-escalation: A magic phrase to stop patient conflicts