Personal protective gear to protect EMS providers from attack
Implementing body-worn cameras and body armor to support EMS safety strategy
---
Early in my career as an EMS provider, circa 1979, my colleagues and I had very few personal safety issues related to our work and interactions with patients and family members in the public.
I'll never forget one late night response to an area where two people were reported to have been shot. By the time we arrived, a large crowd of maybe 30 people had gathered outside the apartment. As my partner and I approached the building, carrying our gear on the stretcher, a large man with a big voice yelled, "Move aside! Let the ambulance doctors through!"
And just like that, the crowd parted, giving us a clear path to the front door. After we patched up the two patients (both had minor flesh wounds) we departed as unhassled as when we first went in.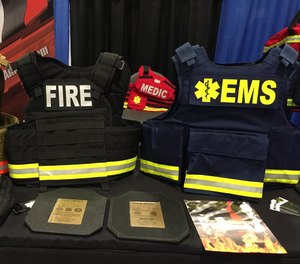 Modern-day threats to EMS safety
Much has changed since then, hasn't it? And personal protection for EMS providers means more than just PPE to prevent exposures to blood, body fluids and pathogens during patient care.
Today, there is more than just an increased risk of bodily harm from those same patients, family members, and the general public that used to respect and value "ambulance doctors." In addition to exposure to infectious disease and the hazards of working on the roadways, EMS providers are also at risk for:
Physical threats (e.g., firearms, knives, physical assault)
Emotional threats (e.g., verbal abuse, verbal threats of violence)
These threats to EMS safety call for new strategies and equipment to reduce on-duty risk to EMS providers. EMS providers in their organizations need to proactively make personal protection from those identified hazards a priority.
The time to make these transformational changes is not after an EMT or paramedic has been injured or abused after a physical encounter with a patient or family member (who subsequently accuses the EMS provider of striking the first blow). Here's a look at two protective equipment options that can aid in supporting your organization's safety strategy.
Measures of protection from BWCs
In 2016, officials in Australia decided to equip paramedics with body-worn cameras (BWCs) after seeing a rapid rise in on-duty assaults toward paramedics. Ambulance Victoria reported that in the previous year, their paramedics experienced 5,000 cases of violence towards them – about 13 incidents a day.
In the U.S., during an average year, more than one EMS professional is violently killed on duty, according to the CDC. The CDC reports that 2,000 EMS professionals in the U.S. are injured every year in violence-related incidents, and EMS providers suffer lost-time injuries from violence-related incidents at a rate 22 times higher than the national average for all workers.
BWCs can provide several measures of protection. BWC footage from violent encounters can be a valuable training aid, to help first responders recognize the early warning signs of violence, and how to avoid assault.
BWC recorded visual and audio evidence can also be used after an incident in your defense in the event someone (e.g., patient or family member):
Physically attacks you or verbally abuses you
Claims that you physically attacked or verbally abused them
Claims that you failed to provide appropriate patient care
Some options: The Axon Body 3 from Axon is a one-piece device that's both a rugged body camera and communications beacon. The Body 3 features enhanced low-light performance, reduced motion blur, and an LTE connection that provides real-time features like live streaming.
The Axon Flex 2, also from Axon, is a two-piece device that gives the user a range of mounting options (e.g., mount the camera on your eyewear and have the receiver in your pocket). This BWC pairs point-of-view video with a rugged design and advanced capabilities like unlimited HD and a 120-degree field of view.
The lightweight Venture 3 in 1 Body Camera's one-touch record feature lets you begin recording audio and video instantly and it has a digital flash for nighttime photography.
The Venture can also be clipped onto the ambulance visor to work as a dash camera. It can also be used in a flashlight mode (4-LED lamps) and you can record both audio and video while using the flashlight mode.
---

Learn more
How to buy body-worn cameras (eBook)
Download this EMS1 body-worn cameras buying guide to learn key steps for product selection, purchasing and implementation
---
Protecting EMS vulnerabilities with body armor
The need for EMS body armor has developed along with the changing role and operations of EMS personnel during and after an active shooter/multiple casualty incidents and the shifting of the warm zone.
As EMS1 Editorial Director Greg Friese, MS, NRP noted after attacks against medics in Detroit and San Diego, "Some of the most violent assaults reported on medics are from knives and box cutters, not guns. Body armor that does not provide stab or slash protection leaves medics vulnerable to these close-quarters assault injuries that can happen suddenly."
Some options: The Concealable Multi-Threat Vest Level iiia from Safe Life Defense, is a soft concealable vest that provides protection from handguns and shotguns, as well as resistance to strikes and slashes. The company's Concealable Enhanced Multi-Threat Vest Level iiia+ features bullet, strike and slash protection, and it provides National Institute of Justice (NIJ) Level 1 spike protection (up to 36 joules of force). 
The Elite IV (Female) concealable body armor system from Point Blank Body Armor is designed with a more ergonomic fit for women while compliant with NIJ .06 Level II and IIIA standards for ballistic protection systems.
Read more: How to buy body armor for EMS personnel
It's a rough world out there, for sure, and it appears it's only getting rougher. But whether you're operating in the warm zone or providing care to a less-than cooperative patient, protective gear can help in keeping you safe on the job. And who can argue about that?
This article was originally posted May 27, 2020. It has been updated.