$50K donation helps new Ky. county EMS purchase first ambulance
Portable Solutions Group's donation will help the Greenup County Ambulance Authority with the purchase of their first ambulance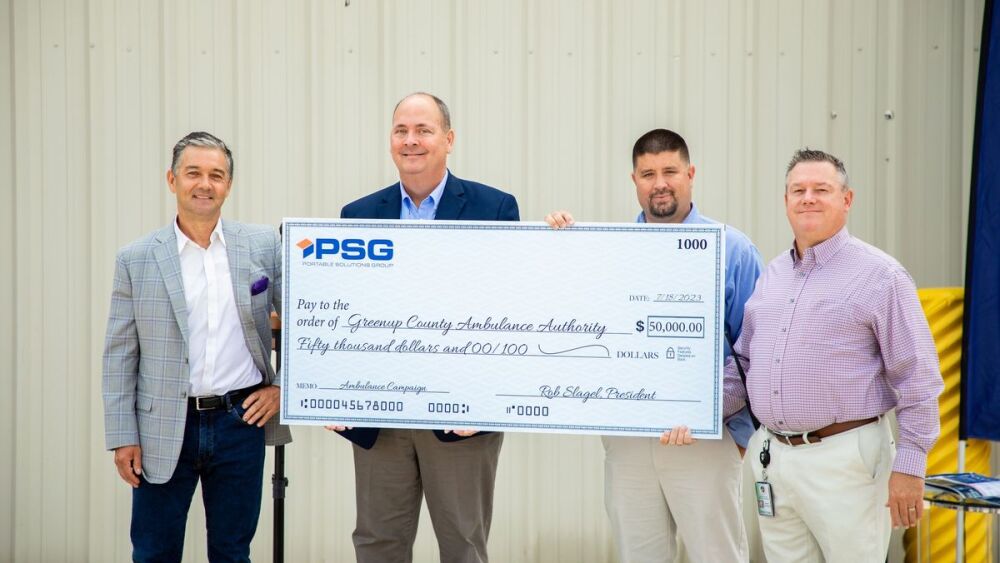 The Daily Independent
WURTLAND, Ky. — Portable Solutions Group will donate a $50,000 check to Greenup County to help with the purchase of the first ambulance following the county's creation of a countywide ambulance service, according to a press release from PSG.
A new fleet of ambulances and materials are to be purchased and set to begin operating by January 2024.
The Greenup County Ambulance Authority will provide service to more than 300 square miles of unincorporated communities that previously depended on a third party.
Said PSG President/CEO Robert Slagel: "When I heard that 300-plus square miles were without immediate access to ambulance services, it prompted the desire to help remedy the problem. It is important that our area is marketable for other businesses. If folks are moving here to work, they must be assured they have access to proper emergency services. What Judge Hall and the other county officials are implementing with this new ambulance authority directly impacts our economic development, and I am thrilled to contribute to that."
The ambulance authority committee is comprised of Greenup County Judge-Executive Bobby Hall, Commissioner Derrick Bradley, Ambulance Director Kevin Callihan, Public Safety Director Buford Hurley, Emergency Management Director Garth Wireman, Sheriff Matt Smith, County Attorney Matthew Warnock and 12 fire chiefs in Greenup County.
To commemorate the partnership, a presentation will take place on Tuesday, July 18, at 11 a.m. at PSG's manufacturing facility at 1033 Port Road in Wurtland. Community members are invited to attend.
(c)2023 The Daily Independent (Ashland, Ky.)
Visit The Daily Independent (Ashland, Ky.) at www.dailyindependent.com
Distributed by Tribune Content Agency, LLC.