Q&A: Tackling EMS opportunities and challenges at Pinnacle 2019
Jay Fitch shares what to expect at this year's leadership forum, from ET3 to practitioner health and safety, to the biggest controversies in EMS
---
Pinnacle will be held at the Rosen Shingle Creek in Orlando, Florida, July 22-26, 2019. Register now at pinnacle-ems.com.
EMS chiefs, administrators, medical directors, educators and innovators from systems of all different types and sizes gather every year at the Pinnacle EMS Leadership Forum in the pursuit of collaboration and solutions to common challenges.
EMS1 is proud to be the premier media partner for this important event. Jay Fitch, PhD, founding partner of Fitch & Associates, which produces Pinnacle, tells us what to expect at Pinnacle 2019.
EMS1: In this year's program, we noticed many Pinnacle sessions related to the health, safety and engagement of the workforce – was that true at the first Pinnacle in 2006?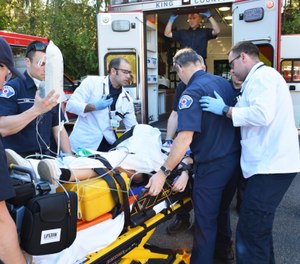 Jay Fitch: Engagement was on the agenda when Pinnacle began 13 years ago, although some of the strategies being used by innovative EMS leaders now and being discussed at this year's conference are certainly new and exciting.
As for health and safety, there was much less emphasis on those topics at that point – not like this year, when we have sessions every day of the conference addressing patient and provider safety. For example, an interactive and in-depth Pinnacle seminar, "Implementing the Four Cornerstones of a Sustainable EMS Safety Culture," will help EMS leaders take the next step from addressing safety issues as they surface to making safety part of everyone's core mission every day.
One of my partners at Fitch & Associates, Dr. Steve Knight, is presenting at a general session on fatigue, looking at what behavioral science tells us about timing and other factors. This is certainly a change from 2006, when the industry was still mostly just accepting exhaustion as part of the job and not opening our eyes to just how dangerous it might be for our patients and ourselves.
How do you see the profession addressing the culture surrounding provider mental health?
It's a dark corner of our profession that needs much more light shed on it. We've been talking about mental health at Pinnacle for many years, thanks to EMS leaders who have made it a priority, such as veteran Pinnacle speaker Mike Taigman, as well as newer voices, like Dr. Peter Antevy, who we're thrilled to have at Pinnacle for the first time in 2019.
But we also make it a point to bring in experts from outside of EMS. Jim Marshall, a clinical psychologist with a focus on the health and wellbeing of 911 telecommunicators and public safety personnel, returns again this year to talk about PTSD and resilience. I'm particularly excited to have Katie Nall as our closing keynote speaker talking about "Surviving the Circus: Simple Steps to Being Your Own Ringmaster." She's an expert in reducing anxiety and stress, something we all need to do more of.
You started your career in EMS a few decades ago and have seen it evolve over time. How is being a leader now different than it was when you started?
In those days, I was part of the younger generation that bristled at the "my way or the highway" approach to leadership that was common in that era. In the years since, we've learned that to be effective, we have to meet people where they are and lead them to success by focusing on creating a healthy organizational culture. That doesn't mean we have to throw away our policies or forget about holding individuals accountable; it means we have to engage and lead differently.
Pinnacle is continuing its tradition of focusing on leadership with a variety of sessions, including a seminar on engaging employees from recruitment to retirement and another aimed at mid-level leaders which includes Bill Seifarth, the director of the National Registry, as faculty.
Another example of how our profession and Pinnacle have evolved is that we have a talk this year on bullying in the workplace and accommodations for transgender patients and employees. It's not that these are new issues; it's that we've finally recognized that we must address them head on to ensure the workplace isn't toxic and everyone who can contribute by serving their community as a paramedic or EMT has the chance to do so.
Speaking of the evolution of EMS, the industry is buzzing about ET3, the new pilot funding model recently announced by CMS. Will it be on the agenda at Pinnacle this year?
Of course – while we're still just learning the details, clearly ET3 has the potential to be a huge game-changer for the profession. We've been talking for decades about reforming how EMS is paid for in this country. In addition to what CMS is getting ready to pilot, there are some EMS systems working with other payers already to create a more patient-centered, sustainable future for EMS.
Two leaders helping lead that charge, Brenda Staffan and Asbel Montes, will lead a special breakfast session on the future of reimbursement. And Brenda will be joined by Vince Robbins, one of the smartest people in the business. They will share their thoughts on the implementation of ET3 and what it means for EMS systems across the country.
It's an exciting time to be in EMS and I'm really looking forward to once again learning from the great speakers and the amazing leaders attending Pinnacle this summer.