Photo: N.Y. ambulance carrying patient crashes with box truck, is ruined in fire
The injured Malta-Stillwater EMS providers removed the patient before the rig began to burn
---
By Steven Cook
The Daily Gazette
MALTA, N.Y. — A Malta-Stillwater EMS ambulance carrying a patient to Saratoga Hospital collided with a box truck Monday morning, leading the crew to rescue the patient before the ambulance caught fire, EMS officials said.
The patient was taken on to Saratoga Hospital by another Malta- Stillwater ambulance, while the crew was also taken to the hospital by Community EMS for injuries they suffered in the incident. officials said. The extent of the injuries to the crew was unclear.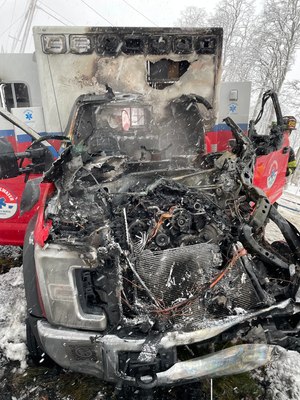 The crash happened at about 7:43 a.m. in front of the Locust Grove Motel. A release did not describe the collision further.
"The crew removed the patient to safety as the ambulance caught fire," the EMS release read.
Malta Ridge and Round Lake fire departments responded and extinguished the fire.
The New York State Police are investigating the accident, officials said.
___
(c)2023 The Daily Gazette, Schenectady, N.Y.
Visit The Daily Gazette, Schenectady, N.Y. at www.dailygazette.com
Distributed by Tribune Content Agency, LLC.
McClatchy-Tribune News Service