Ohio rural ambulance service struggles with recruiting volunteers
Ambulance service officials are afraid it will take a personal tragedy to spur a discussion about filling the gaps in emergency medical service in Tuscarawas County
---
Nancy Molnar
The Times-Reporter, New Philadelphia, Ohio
TUSCARAWAS COUNTY, Ohio — Robert L. Smith remembers well the time his company, Smith Ambulance, was called about a heart attack in a small rural community. It took his crew 40 minutes to get there.
Afterwards, he quizzed the paramedic who responded.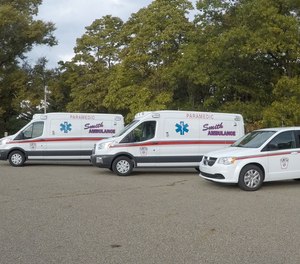 "I said, 'My God, what did they say when you got there?' I was almost embarrassed," said Smith, who come June will have been running ambulance calls for 50 years.
"He said 'Thank you.' They said 'Thank you, because last time we called, we had to go in our own car.'"
The elderly couple Smith Ambulance visited that day lived in Harrison County. But Tuscarawas County shares a problem with its neighbors to the east, where volunteers may not be immediately available to provide emergency medical service.
"Rural EMS is in crisis in my opinion," said Smith, president of the Dover-based company that bears his family name. "Volunteerism has dwindled to virtually nothing."
Smith said increased training requirements are contributing to declining volunteerism.
"It used to be, you'd get your (emergency medical technician certification) and a couple years later, you'd go to the firehouse and renew," he said. "Now we have continuing education at the hospital every month. I think a paramedic has to have 93 hours of continuing education every three years. EMTs have to have (continuing education)."
Smith said paramedic training can take two years and cost $10,000.
"So people aren't going to invest that much time and effort to volunteer a couple nights a week. If they go into this, they want paid now," he said.
With another year of education, a prospective paramedic candidate can become a nurse earning $30 to $40 an hour, Smith said.
A nationwide problem
"This is a nationwide problem due to diminishing numbers of volunteer firefighters as well as tight budgets for full-time career fire departments," said New Philadelphia Fire Chief Jim Parrish, once a volunteer himself.
"So companies like mine are here," Smith said. "Some of the municipalities, the larger ones, have enough money. And it's tax-based. If they don't run a call today, they don't run a call today. Our survival is based on billing for our calls and being paid."
Within Tuscarawas County, Smith Ambulance provides the primary emergency medical service for Goshen Township, Jefferson Township, Mill Township, Rush Township, Union Township, Warren Township, Warwick Township, York Township, Uhrichsville, Dennison, Tuscarawas village, Midvale, Roswell and Stone Creek. It collects a subsidy from those local governments.
Those contracts have affected the way Smith deploys his crews.
"We were getting called into Harrison County, way into Harrison County, because, again, they are mostly volunteers. There's no one around during the day. They work. But we finally had to say, 'We can't be clear over by Cadiz if we're being paid to cover Goshen Township and Uhrichsville and Dennison. It's not fair that we're out of service to do that."
As volunteer staff became unavailable, several volunteer fire departments have begun hiring part-time, well-qualified firefighters and EMT-paramedics to fill gaps in service, said Parrish.
"Volunteer departments in Tuscarawas County such as Strasburg, Sugarcreek, Arrowhead Fire District (Gnadenhutten) have part-time staffing," he said. "The career full-time fire departments serving in the county include Bolivar, Dover, New Philadelphia, Uhrichsville and Dennison Fire Departments and Newcomerstown Emergency Rescue Squad."
In addition, the Tri-County Joint Ambulance District provides full-time, paid emergency medical service to Newcomerstown, Port Washington and four nearby townships.
But what happens when there's an emergency in an area that has no local ambulance service?
Sometimes Smith or another private company responds. Sometimes those calls get routed to the departments that have staff on duty, such as New Philadelphia.
Parrish drew a line in the sand regarding such out-of-area services after a Feb. 7, 2018, call for the New Philadelphia Fire Department to send an ambulance to the Harrison-Guernsey County line for an ill person.
"I said, 'We're not going. There has to be an ambulance closer than New Philadelphia.' That was kind of the straw that broke the camel's back," Parrish said.
"Is it the city of New Philadelphia's responsibility to fund fire and EMS service in another community? The answer is 'no.'
"We've helped and helped and helped. We've enabled people to not have fire and to not have EMS protection.
"We were being requested to respond to multiple areas throughout Tuscarawas County and even in neighboring counties due to gaps in EMS coverage."
City curtails out-of-town response
With the approval of New Philadelphia Mayor Joel Day and Safety Director Greg Popham, Parrish decided on Feb. 7, 2018, to curtail EMS responses outside its jurisdiction of the city and Goshen Township, and Dover and Dover Township with its first-out paramedic unit. If the first paramedic is busy, the second ambulance remains in New Philadelphia.
He's not talking about the exceptional event, such as an accident with multiple victims, or a catastrophe that exceeds the response capacity of any single department. He's not backing away from the mutual aid between the New Philadelphia and Dover fire departments, and the New Philadelphia and Uhrichsville fire departments. They help each other during residential and commercial building fires to increase the margin of safety, Parrish said.
The problem Parrish has is with mutual-aid agreements that have lopsided performance histories.
"What's mutual if I send them a truck and four people, and an hour from now, I ask them for a truck and four people, and they send nothing? What's mutual about that? Nothing. That's not mutual."
Parrish declined to name communities that are not holding up their end of the bargain.
Midvale struggles
But the Midvale Fire Department, which has a mutual aid agreement with New Philadelphia, has struggled in recent years.
The volunteer fire department was poised to grow by 12 percent in February, as it would soon be adding one firefighter to its crew of eight, Assistant Fire Chief Jason Kukwa told Midvale Village Council on Feb. 14. On a percentage basis, the increase in emergency medical technicians would be greater, since the incoming firefighter would be the squad's fifth EMT.
Kukwa said that the department, which has served the community since 1953, is trying to advance, but keeps facing obstacles.
He pointed to a recent effort to contract with a company to bill for its ambulance runs. In theory, charging for emergency medical service should bring in money. But the firm has a $795 start-up charge. It would assess $40 for each bill sent, with a minimum fee of $100 a month even if no bills were mailed.
"We can save a whole lot of money if we do it ourselves," Fire Chief Mike Woolf said.
In January alone, the department had four calls for fires and 14 for emergency medical service, Woolf said.
Another source of potential revenue was Barnhill, which offered to pay $600 a year for fire protection. But as for ambulance services, "They are going to be taking their chances," Kukwa said. Barnhill's general fund totals $32,637 this year.
Woolf told Midvale council in February that he has plans to bring in more money to the department with a chicken barbecue, car show and a "boot drive" collection. The department is staging an online sale of $20 red T-shirts that say "I support Midvale Fire Dept." to raise money to replace outdated gear and send members through emergency medical and fire training.
Kukwa said the department is considering working with an expert in writing grant applications to obtain money for firefighter gear.
While the fire department works to advance, Midvale pays Smith Ambulance $1,000 a month for emergency medical services.
"But it's not enough money to guarantee a unit available," said Smith. "It costs several hundred thousand dollars (a year) to staff one ambulance around the clock."
Bills unpaid
Ambulance companies, like other businesses, bill for their services. Isn't that enough?
Smith said his company is typical in its industry, collecting about half of what it bills.
"EMS is incredibly expensive," said Todd Shroyer, director of Coshocton County Emergency Medical Service. "Good paramedics and EMTs are in huge demand and there is a limited number of them. The cost of our trucks, equipment, medications and supplies is ridiculous. You can easily spend $300 in medications and supplies on a call where you get reimbursed less than $200."
Coshocton County EMS is supported by a 4-mill property tax. It's a model that Goshen Township Trustee Sam Wise thinks could work for Tuscarawas County.
"All I want is a countywide EMS district," said Wise. It could be built with a network of existing EMS providers, including local fire departments. Or communities that already provide EMS services could be excluded from the county district. The key would be a funding mechanism to cover the areas that lack service.
Who should pay?
"I think anybody that utilizes the services should pay for it. If you want to ride the train, you're going to buy a ticket," Wise said. "It's that simple."
"We're to the point where we need to start talking," said Brian Stewart, Cleveland Clinic Union Hospital EMS coordinator. "EMS has been very diligent in getting out the door, and using mutual aid to cover each others' calls to minimize the impact to the citizens."
"It is the responsibility of the communities' and townships' leadership and administration to evaluate the adequacy of the fire and EMS protection in their area," Parrish said. "It is all about being responsible both logistically and fiscally. Although the fire service is steeped in pride and tradition, we just cannot continue to respond to increased call volumes with less staff trying to do business the way we have in the past and expecting a different result."
Wise is afraid it will take a personal tragedy to spur a discussion about filling the gaps in emergency medical service in Tuscarawas County.
"I look for it to happen pretty quick, somebody's going to call an ambulance and ain't nobody coming," Wise said. "That's what it's going to take."
———
©2019 The Times-Reporter, New Philadelphia, Ohio
McClatchy-Tribune News Service