Doing more with less: 6 ways rural EMS makes providers better
Less resources makes stronger, more independent clinicians, able to think on the fly and find creative solutions to EMS challenges
---
The challenges of rural EMS departments are well-known to those who practice in or manage them: funding, staffing, recruitment and retention, access to specialty care, equipment, training and so many more.
While each of these challenges represents a significant topic on its own, there's another side to the story that's often forgotten: practicing EMS in rural areas offers significant benefits to providers, especially those who wish to grow as clinicians. Despite the challenges, providers are forced to do more with less, enabling them to mature their skills in several different ways:
1. More self-reliance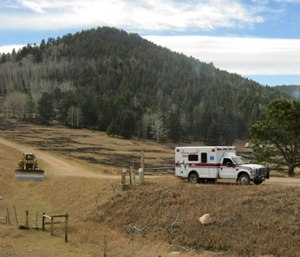 Decreased funding and less staffing means EMS providers are forced to handle care on their own. In urban areas, there are often ample ALS providers and supervisors to provide backup. In rural practice, providers must be confident, competent, independent providers. The difficult airway, the tough extrication, the critical pediatric patient – whatever the case, there's likely no one around to take the reins when the call doesn't go as planned or desired.
2. Full protocol implementation
Third- and fourth-tier drugs, remember those? Urban providers with shorter transports may not get past the first or second pharmacology steps in their protocols. It takes time to get to Solu-Medrol for anaphylaxis, an Amio maintenance drip post-arrest or magnesium for an asthmatic.
But when transports are lengthy, providers must know what comes next and what the alternative options are; the patient's life may depend on it.
3. Longer transports
When the patient is under EMS care for longer, they must be kept alive for longer, likely with just one person in the back of the unit. Not only must providers know their full protocols, they must also know how to make the most of the time they have.
How can this patient best be advocated for? What other questions can be asked, what assessments can be done, what tests can be performed to accelerate their treatment upon arrival at the hospital?
In some cases, the patient may be stabilized – or at the very least, have a solid differential diagnosis – by the time they arrive at the emergency department.
4. Multitasking
Two-person cardiac arrests are a reality in the rural setting, as are two-person critical patients of every other kind. Providers must know how to provide the best care possible with only two or four hands.
Thanks to automated CPR devices, this task has become much more feasible, but still requires skill and focus. Airway management, timekeeping, medication administration, cardiac monitoring and reassessment must be performed in a timely and efficient matter, no matter the number of hands available. Time management and critical thinking skills are a must.
5. Creativity
With limited resources and hands, rural EMS providers are forced to get creative, and calling for assistance is not always a viable option. So, what is? Figuring out the best solution to the call however you can is often the only choice.
Using every bystander, piece of equipment and resource that you have available to you in the moment to provide a sensible solution – even if it's not traditional EMS practice – is the only way to get the job done.
6. Community paramedicine skills
The (ab)use of EMS as a means of non-emergent primary care is rampant in rural EMS, and it's toxic to those departments and regions with limited resources. Providers must learn how to address these needs and advocate for patients, while also conserving resources.
Can the patient be driven to an urgent care or a primary care physician by family? Can the patient be treated at home and follow up with a physician by phone? Transport is not always the only or best option for the patient or the department, and the provider must know what the other options are, when they're appropriate, and how to articulate those options to patients and families.
While every rural EMS department comes with its own unique difficulties and challenges, the advantages rural EMS can offer both BLS and ALS providers are vast. So long as providers are committed to providing excellent patient care, the rural environment enables them to become stronger, more open-minded, more independent clinicians.