Vaccinating the vulnerable
Delivering doses to seniors, the homebound and the homeless
---
Across the nation, communities large and small are scaling up COVID-19 mass vaccination events at shopping centers, schools, parking lots and sports venues. Hundreds of individuals from all walks of life report to the multi-acre sites with shirt sleeves rolled up, eager to receive the protection for which they've waited months. Some populations, however, present with technological, transportation and/or mobility issues that make navigating a large-scale event problematic. In recent weeks, St. Charles County Ambulance District (SCCAD) paramedics have fanned out across the community to reach those facing these barriers to access.
Groups targeted in SCCAD's effort include senior citizens residing in independent living apartment communities, homebound individuals and those who are homeless. This comes on heels of the district's successful vaccination clinic for first responders and their eligible family members, which saw more than 1,100 individuals inoculated in January and February.
The point of residence vaccination effort started with the senior apartment population, and later evolved to include other groups considered to be vulnerable populations. Since the beginning of the pandemic, SCCAD leadership have worked closely with public health partners to determine how we can collectively allocate resources to meet the needs of the 400,000-plus individuals who reside in the county.
The idea to begin with elder-only apartment communities came from several discussions with management staff at said facilities. Assisted living and skilled nursing communities were considered high priority from the onset of the vaccination effort earlier this year and had access to national programs through Walgreens and CVS. If a facility offered multiple levels of care, they were typically able to include those residing in independent living portions of the building in their total count, thus enabling them to be vaccinated alongside those receiving care services in assisted or skilled nursing. Communities that were purely independent living, however, had no such access to the national pharmacy program, leaving some residents struggling to navigate the vaccination process.
Given the level of media coverage dedicated to COVID-19's effects on the elderly and those with pre-existing health conditions, it's no surprise that the aged residents of these apartment communities have been playing things safe; waiting to be vaccinated before resuming lunches, outings and other activities. Though they recognized the importance of putting a pause on gatherings, isolation takes a toll. Lack of contact with friends, family and neighbors can lead to heightened levels of anxiety and depression among this vulnerable population, thus making prompt delivery of the vaccine a high priority.
"While the big vaccination events work well for most people, many elders struggled with that process," said Stephanie Schwartz, property manager at the Villages of Homefield, a senior villa community located in O'Fallon, Missouri. "For some, it's technology-related – many don't own computers. Others use assistive devices, like walkers, and would have a hard time at a site spread over three acres. Finally, there are those who no longer drive, and don't have family nearby to take them to their appointment. For individuals experiencing these and other barriers to access, the on-site vaccination events at the apartment complexes were perfect."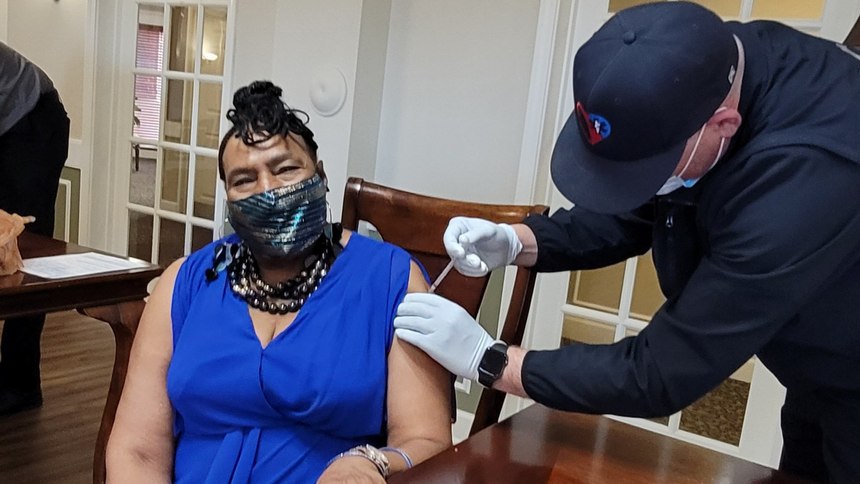 (Photo/Courtesy of SCCAD)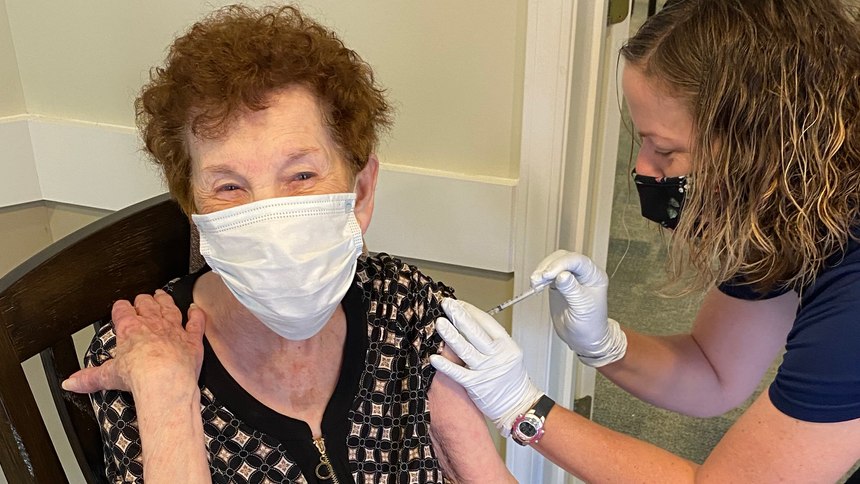 (Photo/Courtesy of SCCAD)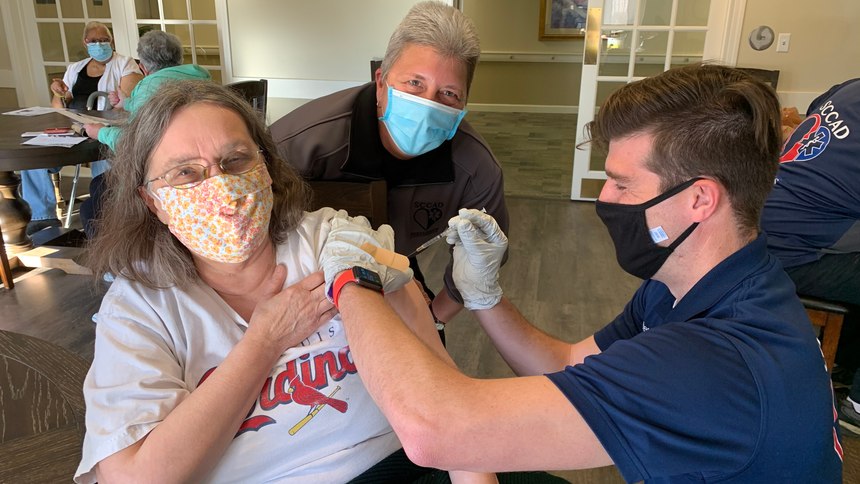 (Photo/Courtesy of SCCAD)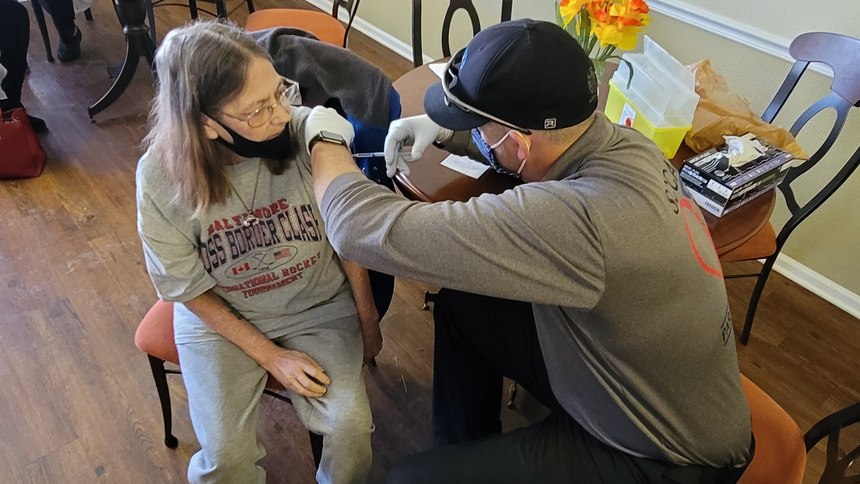 (Photo/Courtesy of SCCAD)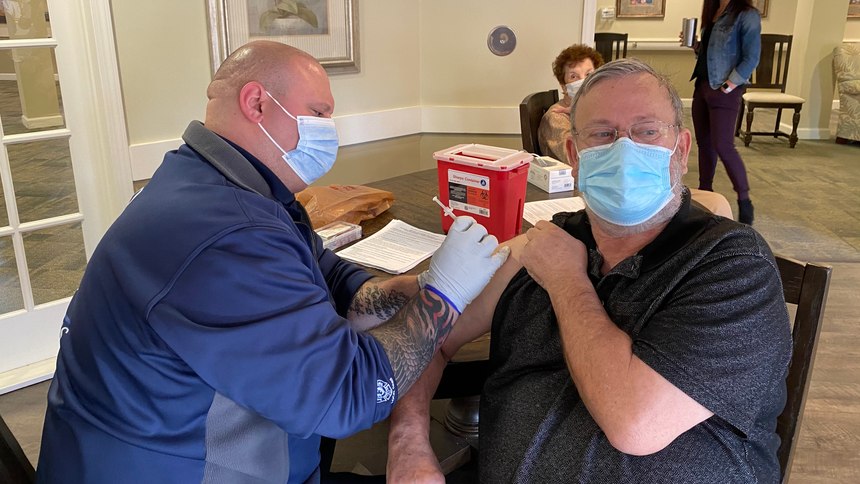 (Photo/Courtesy of SCCAD)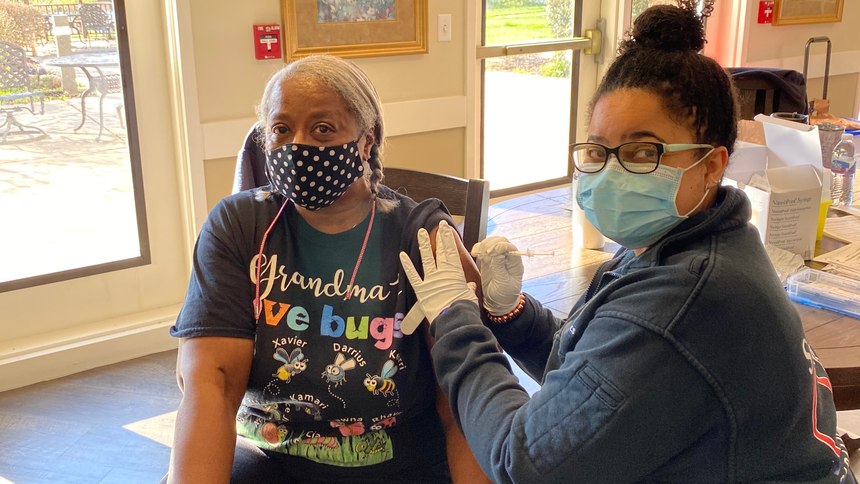 (Photo/Courtesy of SCCAD)






Apartment managers like Schwartz were instrumental in the smooth operation of the clinics. These individuals were charged with coordinating appointment times to ensure a steady, manageable flow of residents that would allow for proper social distancing. In addition, they took point on distributing the pre-screening form ahead of paramedics' arrival, which enabled residents to take their time with the paperwork. At most communities, paramedics vaccinated between 25 and 50 residents.
For more than a decade, SCCAD has focused efforts on maintaining strong ties with senior living communities within its service area. The District's Community Relations Director, Kyle Gaines, serves as a liaison with skilled nursing, assisted living and independent living facilities throughout the county. Relationships established years ago enabled our mobile integrated health team to quickly plan and execute the events.
"Given the patient population and density at senior apartment and villa communities, our paramedics are in and out of the buildings on a fairly consistent basis for calls of all variety" explained Gaines. "Our team was a trusted source, and the appreciation conveyed by residents to those administering the inoculations was humbling – once called it an answer to her prayers."
With vaccination efforts at senior apartments wrapping up in the coming weeks, SCCAD will turn its attention to the homebound and homeless individuals in St. Charles County. The district is working closely with organizations within the community who serve these populations to effectively reach as many as possible via the program. Once again, established relationships within our service area will aid our efforts to serve unique populations.
To offer the vaccine to individuals who are homeless or at risk of homelessness, the district will partner with agencies such as the Community Council of St. Charles County, an organization that operates a unique program called Coordinated Entry, which can facilitate entry into transitional housing for individuals and families. For homebound individuals, the MIH team will work closely with home health agencies throughout the community that are delivering services to these individuals.
Mobile vaccination funding
Undertaking an initiative of this magnitude requires a significant amount of personnel and supplies. Thankfully, SCCAD is eligible to receive reimbursement through the State of Missouri for many of the costs associated with the effort thanks to $5 million stimulus funding that was earmarked specifically for EMS mobile vaccination efforts.
In virtually all communities throughout the nation, there are unique populations for whom point of residence vaccination would be extraordinarily well-received. If your agency has interest and capacity to aid in this effort, there is likely funding to help offset the costs you'll incur. Begin the conversation with your community's department of public health – they'll be grateful for any assistance you can provide and will undoubtedly have no shortage of ways that your team can make an impact within your community.
---

Read next
Deploying a vaccine strike force
An Illinois service partnered with the health department to vaccinate vulnerable populations in homeless shelters, nursing homes, jails and congregate living facilities
---