Texas FD investigating after medic mistakenly gives boy, 8, COVID-19 vaccine
Officials said the incident was the result of "human error" and an issue with the vaccine eligibility process
---
By Laura French
DALLAS — A Texas fire department is investigating after an 8-year-old boy was mistakenly administered a COVID-19 vaccine last month. 
The boy's father said he did not realize children under the age of 16 are not supposed to get the vaccine, and was able to sign his son up for an appointment at a drive-thru vaccination site run by the Grand Prairie Fire Department, according to KXAN.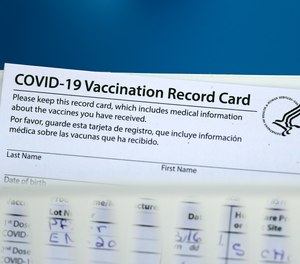 Grand Prairie Fire Chief Robert Fite said about 3,800 people were vaccinated at the site that day and that the paramedic who administered the shot would have needed to scan a QR code provided to all patients who have a valid appointment. Fite said the medic likely followed the same process for the boy as they would have with any other patient, not realizing the child was too young. 
Fite said the department planned to pinpoint which paramedic administered the vaccine to better understand the circumstances of the incident. He said the department also wants to know how the boy was able to sign up for an appointment. 
Dallas County Judge Clay Jenkins told KXAN that "human error" in the vaccine process led to the 8-year-old being vaccinated. Jenkins said the boy was initially put on a suspended list of people who were ineligible for the shot, then mistakenly included him when people under 50 were moved to the eligible list.
"They failed to scrub for people who were under eighteen," Jenkins told KXAN. 
Dr. Marcial Oquendo, the boy's pediatrician, said the father did not realize the mistake until he spoke with the doctor. Oquendo said there is not enough data to determine whether the vaccine is safe and effective for children, especially those under the age of 12, and that he reported the incident to the Pediatric Society and Dallas County Medical Society.