Petition supporting OKC FF punished for transporting child garners 6.7K+ signatures
Oklahoma City Fire Department officials have been criticized for their handling of the incident
---
By Laura French
OKLAHOMA CITY — A petition in support of an Oklahoma City Fire Department major who was disciplined for transporting a burned child in a fire engine has garnered more than 6,700 signatures. 
Oklahoma City fire officials are continuing to face criticism for their decision in January to discipline Maj. Corey Britt for transporting the 3-year-old girl in the Christmas Eve incident, according to KFOR.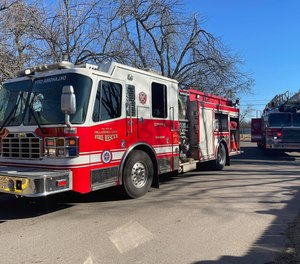 Britt reportedly made the decision to transport the child in the engine after waiting for an ambulance for more than 20 minutes. Fire department officials said an Emergency Medical Services Authority (EMSA) unit was less than a half-mile away from the home when Britt transported the child, and that his actions went against protocol and state law. 
The child, who had been scalded by hot oil from a fondue pot, suffered second-degree burns but was expected to make a full recovery. 
A petition started online by Black Smoke Sticker Co. calls for Britt to be allowed to return to his original position at Station 34 after being removed from his leadership and reassigned to another unit. 
"I just want to be back with my guys," Britt said, according to Black Smoke Sticker Co., which also began printing merchandise in support of Britt. 
Although he was removed from Station 34 and reassigned as a junior officer at Station 30, Britt was allowed to keep his rank and the same rate of pay following the disciplinary action. Oklahoma City Fire Department Chief Richard Kelley and Deputy Chief Mike Walker stand by the decision to punish Britt despite the backlash.
"First and foremost, we have empathy for the family," Kelley told KFOR. "That's a traumatic situation. We hate for anyone to be in that situation. I know it's very tough. But again ... we protect the residents of the city. And if we don't follow the ordinances of the city, then we can get ourselves in trouble." 

Read more
Is fire engine transport ever the best choice for an injured child?
First responders need to train for prolonged patient care for the calls when ambulances are delayed or unavailable
The parents of the girl who was transported, Corey and Kristin Amme, have defended and praised Britt for his actions, saying that he did the right thing after the EMS system "failed."
A comment on the petition in support Britt's reinstatement, signed with the name Kristin Amme, read, "I am the mother of the child burned. Major Corey Britt made the right decision to take my daughter and me on his fire truck. I will always regret that he has been put through this and taken from his station and his family there. I will never regret the decisions made that night. He saved my child and put her and her care above all else. We stand with Major Corey Britt! Let's get him back home!"
Retired Oklahoma City Firefighter Richard Fulton has also been a vocal critic of the decision to punish Britt. Fulton said he was transported in a fire engine from the same station, Station 34, when he was injured during a training exercise. KFOR also reported on two incidents in which Oklahoma Highway Patrol troopers were awarded and commended for transporting patients in their vehicles this year, and an incident in 2010 when a firefighter transported a patient during an ice storm. 
A fire department spokesperson told KFOR that the department is permitted to transport its own personnel as a certified medical response agency, but is not an approved transport agency under the Office of the Medical Director (OMD). The department also said in a statement that permission was obtained from the OMD before the transport was made in the 2010 incident and that the officer that made the transport was disciplined in the form of a counseling session. 
The internal investigation into Britt's actions was spurred by a complaint from EMSA, according to KFOR. EMSA Chief of Operations John Graham previously stated that the agency is struggling with low staffing, delays at emergency rooms and the lengthy process of decontaminating ambulances due to the COVID-19 pandemic. Two days before the incident involving Britt, a Nichols Hills firefighter transported an overdose patient after waiting for an hour and 23 minutes for an EMSA unit, according to a police report. 
The Black Smoke Sticker Co. petition, addressed to the Oklahoma City Fire Department and City Council, has continued to receive signatures and impassioned comments since it first began in January.
"I'm a citizen of Nichols Hills and I'm concerned about slow EMSA response times," read one comment posted on March 19. "Britt did what he had to do, and should be fully restored to his previous position."