Traffic lights will turn green for Mo. first responders at 'smart intersections'
Officials with the St. Charles County Ambulance District and the Metro West Fire District said they hope the technology improves safety and response times
---
Erin Heffernan
St. Louis Post-Dispatch
ST. CHARLES, Mo. — Every traffic light in St. Charles County will soon automatically turn green for first responders heading to emergencies — the latest move in a $17 million effort to create "smart intersections" across the county.
Emergency vehicles now get priority at 210 of the more than 350 traffic lights in St. Charles County, but that number should expand countywide in the coming months, said Amanda Brauer, the county's manager of roads and traffic.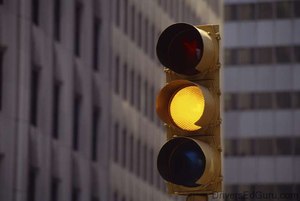 "It's designed to be seamless, so most drivers shouldn't notice a difference other than that some lights might be slightly longer when an emergency vehicle passes by," Brauer said.
The goal, she added, was to make it safe for everyone when first responders need to travel quickly.
Here's how it works: When lights and sirens are activated, GPS units installed in the county's fire trucks, ambulances and some St. Charles County police vehicles will alert the county's network of traffic lights about the unit's location. All lights in their path will then be programmed to turn green by the time they arrive.
The technology isn't new to the St. Louis area. Some busy intersections in both St. Charles and St. Louis counties have had similar technology in place for more than a decade. But St. Charles County will become the first in Missouri to install the system countywide, Brauer said.
The effort, and media coverage of the move, has already prompted leaders in St. Louis and St. Louis County to consider following suit. Both the St. Louis Board of Aldermen and the St. Louis County Council unanimously approved resolutions this month calling for studies of installing the system on traffic lights there.
The effort has been a long time coming in St. Charles County, Brauer said.
The move is part of the larger Gateway Green Light program launched in 2012. The program has so far used $17 million to upgrade the county's traffic lights and traffic management and is a joint effort through St. Charles County, the Missouri Department of Transportation and every city in the county.
So far, the biggest element of the project has been connecting every county traffic light and traffic camera to a single network through 233 miles of fiber optic cables. That allows the system to share real-time traffic data across city lines and more quickly sync lights to new timing plans.
The county has funded about $4 million of the project through a half-cent transportation sales tax, while the remaining $13 million came from federal transportation grants.
The county will pay $809,000 to Global Traffic Technologies to install the Opticom emergency vehicle priority system. About 80% of the cost will be reimbursed by federal grants.
Brauer said the county is starting with police, fire and EMS but is considering expanding the program to include public works vehicles like snow plows, in the future.
---

Read next
Quick Take: It's time to flip the switch on hot EMS response
Studies have repeatedly demonstrated that the time saved with lights and siren use has little-to-no impact on patient outcomes
---
Jeremey Hollrah, the St. Charles County Ambulance District's deputy chief of special operations, said EMS crews have already noticed a difference at busy intersections.
"Intersections are notoriously our highest-risk areas for collisions in emergency responses," Hollrah said. "And in rush hour, you might have 20 or more vehicles backed up and confused about what to do at a red light."
Hollrah said it was too early to tell, but he hopes the system will improve response times, especially in busy areas.
Case studies in several cities have shown improvements in travel times linked to the technology, including a review from Global Traffic Technologies that found average emergency vehicle travel times through one busy Savannah, Georgia, intersection dropped from seven minutes to just over one minute.
Lt. Matt Coppin, with Metro West Fire District, said the district was an early adopter of the green-light systems, installing it in some busy intersections in the district's west St. Louis County coverage area beginning in the late 1990s.
Today, 43 traffic signals in the district use the technology funded by the district.
"To me, safety is the biggest thing," Coppin said. "It's about limiting the risks of a crash for both us and other drivers, and we've been happy with it."
Coppin added that the system can also cut down on annoyances for fire and EMS crews.
"We still have to follow traffic rules in the middle of the night," he said. "So if there's a red light on a deserted road at 3 a.m., you still have to slow down to look for oncoming traffic if this isn't in place. That's not great in an emergency."
___
(c)2022 the St. Louis Post-Dispatch
McClatchy-Tribune News Service