Cyberattack on Texas EMS agency delays response times for several days
MedStar increased staffing and "dispatchers used ... pen and paper to keep track of where paramedics and ambulances were"
---
By Leila Merrill
FireRescue1/EMS1 Staff
FORT WORTH, Texas — Tarrant County residents experienced ambulance wait times of up to an hour for about a week after MedStar Mobile Healthcare's computer network was hacked, CBSDFW reported.  
"Dispatchers were using radios, maps, and pen and paper to keep track of where paramedics and ambulances were after computer systems were disconnected and isolated when the attack was discovered Oct. 20," according to the news report.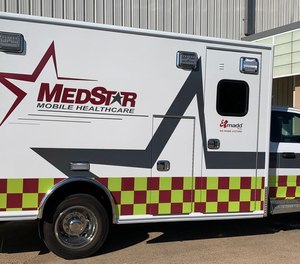 Patient outcomes, however, were not adversely affected by the long wait times, at least in part because of a failsafe plan, according to MedStar. Multiple agencies were sent to each call. Hence, firefighter-EMTs could keep a patient stable while waiting for a paramedic to arrive.
"The system is designed that way as a safeguard so if one of the agencies is going to be delayed, there's low chance care is going to be delayed," said Matt Zavadsky with MedStar.
After days of delays, the president of the Fort Worth Professional Firefighters Association expressed concern about the effects on residents in a letter to the mayor and two city council members.
"When you start putting our units, tying them up on calls for an extended period of time, three, four times than they might ordinarily be on a call, especially in those busier pockets of the city, it puts a real strain on our system and our ability to provide good care to the citizens that we serve," said Mike Glynn.
MedStar said it had doubled the number of employees at times in its communications center during the event, to help with documentation and radio calls. 
Other local agencies increased their staffing levels to cope with the issue. The city of Burleson increased its dispatch center staffing. Fort Worth Fire had an additional firefighter in its alarm office and offered to let MedStar staffers use its computer system to track ambulances.
But MedStar declined the offer, saying that moving employees to an unfamiliar location would create another challenge.
MedStar had conducted a drill on Oct. 5 on operating without a computer and dispatch system. The drill accounted for a downtime of a few hours, not days.
MedStar told the news outlet that operations had mostly returned to normal by Thursday.
The cyberattack is being investigated.