NY ambulance service shaves minute off response time with new rig
Finger Lakes Ambulance decreased their response time from six minutes and 43 seconds to five minutes and 39 seconds with the addition of a new ambulance
---
By EMS1 Staff
GENEVA, N.Y. — With the addition of a new ambulance and a decrease in mutual aid calls, the Finger Lakes Ambulance service shaved more than a minute off their response time for medical calls.
MPN Now reported that after adding a new ambulance at the beginning of the year, response times for calls in the City of Geneva were down a total of one minute and four seconds from last year.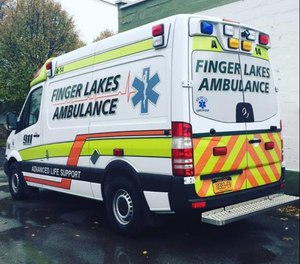 "We restructured our schedule to accommodate extra units in Geneva," Public Information Officer Kevin Becker said in a meeting with the Geneva City Council. "We updated our dispatch directive which specifically said we are not to utilize the fire department unless absolutely necessary."
The goal for the ambulance service, according to Becker, was a response time of under seven minutes to 90 percent of calls. The agency currently sits at 80 percent.