The biggest reason employees leave
How EMS organizations are losing good employees with low pay scales
---
There are many reasons why EMS providers leave. When good employees believe that someone else is receiving better pay for comparable if not equal work, then these employees will – at best – leave your organization, or worse, remain, but be unsatisfied and unmotivated.
Check out our Special Coverage package, "Defying the EMS retention crisis," to learn how to combat this and other retention challenges.
This article was originally posted March 7, 2019. It has been updated with new information.
As equipment intensive as prehospital care is, a significant portion of the budget for most EMS services goes toward employee wages. As a result, when it comes time to trim that budget, managers may be mistakenly tempted to play a game of employee salary limbo, "How low can you go?" It sounds like it's simple economics. In reality, it is a terrible idea.
A large, but often underestimated cost to organizations is employee turnover, both voluntary (employees leaving the organization on their own), and involuntary (employees being fired, typically for a performance issues). There is a significant cost associated with recruiting, evaluating, hiring, orienting, training and equipping new employees. When employees leave because of low pay, it will have a substantial economic and operational impact on an organization.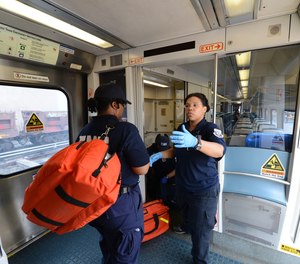 According to the most recent Willis Towers Watson Global Workforce and Global Talent Management and Rewards studies, pay rate is the No. 1 driver of both employee recruitment and retention. The studies report that one in five employees don't believe they are being paid fairly and that this is a significant source of turnover across all industries.
The American Ambulance Association recently published its fourth annual survey of employee turnover in the EMS industry, presenting turnover data from 119 EMS organizations, representing more than 12,000 employees.
According to the survey, voluntary and overall turnover increased for 2022, with the turnover rate being in the 20-36% range for EMTs and paramedics, a 6% increase over the prior year – meaning that EMS agencies are experiencing a full turnover of all staff every 3-4 years.
A competitive job market demands competitive compensation. Fortunately, there are a number of steps that EMS agencies can take to help turn things around.
1. Make someone responsible for employee turnover and satisfaction
One of the biggest reasons that EMS employers are inadvertently hurting their organizations is that there is no one looking to specifically identify and manage the significant, but often hidden costs of employee turnover. As with so many issues, the first step in fixing them is admitting you have a problem.
Someone in your organization needs to identify the average annual employee turnover rate, both voluntary and involuntary, and identify the costs associated with the process of an employee leaving, as well as the total financial and operational costs associated with bringing a new employee 100% up to speed.
The same person responsible for identifying and calculating these costs may also be the best person to take the lead when it comes to managing them.
2. Survey local EMS providers even in different types of providers
The next step in addressing employee concerns about the inequity of pay is to find out what comparable EMS employers are paying in your area. In addition, you'll need to find the pay rates for other emergency services and similar municipal organizations, even if they aren't directly comparable.
For example, if you are a private EMS provider, you will need to look at base pay rates for police, firefighters and rescue personnel, even if they don't provide primary EMS services. You may not consider this information relevant to a discussion of pay rates at your organization, but your employees do.
In January, 2019 New York City Mayor Bill de Blasio was asked about the base pay gap between employees of FDNY EMS and employees of New York City's fire department, police department and even sanitation department. FDNY EMTs make approximately $40,000/year less in their base pay rate than FDNY firefighters, police officers and sanitation workers. Mayor de Blasio's response was that he respects EMS providers, but that the "work is different." This sparked both outrage among area EMS providers as well petitions and a #TheWorkIsDifferent social media campaign for pay equity.
When good employees believe that someone else is receiving better pay for comparable if not equal work, then these employees will – at best – leave your organization, or worse, remain, but be unsatisfied and unmotivated.
3. Survey national EMS providers
If higher pay rate in the other organizations aren't yet attracting away your quality employees, then a higher pay rate in other regions of the country may be. EMS salaries vary widely across the United States, as does the cost of living. And yet, even when adjusted for the cost-of-living, pay rates can vary from state to state by as much as $30,000 per year, making a move to another region potentially very attractive for employees of your organization.
---

Read more
Pay paramedics a thriving wage to end the retention crisis
Paramedics: don't settle for a living wage. Instead, be audacious and demand a thriving wage for your lifesaving career of community service
---
4. Offer a clear path for pay increases
It is dangerous to presume that because you run a good organization, your pay rates are automatically fair and equitable. While a variety of contracts, obligations and agreements can limit the degree to which employers may adjust pay rates, it is crucial to evaluate them at least annually to make sure that they are not only competitive outside the organization, but also that they drive the desired behavior inside the organization.
Consider how employee pay raises are currently triggered within your organization. Are they simply standard annual raises up to a certain number of years? Are they tied to performance? Are they tied to employee capabilities or education?
Once you have determined how you want the pay rates to function within your organization, you must next evaluate actual current employee rates to ensure not only that monetary compensation is functioning the way you want it to, but that there are also no perceived pay discrepancies, especially based on age, race, gender or other protected classes.
5. Be transparent about pay structure and opportunities
It can seem counterintuitive, but an open and honest dialogue about pay scales, how they are structured, how they are tied to desired performance and employee attributes, and how they are restricted and limited can go a long way in improving employee satisfaction. Now that you have the data in hand, this is a conversation that you are prepared to have.
While base pay can be limited by a variety of factors, employers often have more flexibility when it comes to offering additional money for additional work. Part of the pay transparency in your organization should be clear communication of opportunities for additional work, especially if additional work is tied to increased rate of pay, such as overtime rates, shift differentials and holiday pay. 
Additional work opportunities may also exist for employees at potentially higher rates for services such as providing education programs, special EMS standby services, delivery of community paramedicine and more.
From an employer perspective, pay rates, how they are structured, how they are restricted, their fairness and equity and the impact they have on employee recruitment, retention and performance may seem straightforward.
However, without a regular organizational analysis when it comes to employee compensation, your agency may be underspending with the intention of apparent savings, while incurring greater hidden expenses. Or, you may be overspending in some areas that are not driving the performance you want or, worse, leading to the perceived inequities that are driving the performance you don't.
Bottom line, making one person responsible for the oversight and management of employee pay and implementing some of these recommendations is likely to offer a significant return on investment.