Proven recruitment and retention strategies
Readers sound off on what's attracting new talent and keeping members satisfied
---
Our goal with the EMS Trend Survey and Report is not just to identify areas of change, growth and stagnation, but to also source solutions to shared challenges. Nearly all (97) of the 3,000-plus respondents to the 2022 EMS Trend Survey reported some level of difficulty with recruitment and retention. We asked readers to share their innovative ideas to improve recruitment and retention, and any creative practices that are proving successful to improve staffing.
We received thousands of comments, from those in services with above average compensation and a track record of adequate staffing, to those who's organizations had recently implemented a change and were fully staffed for the first time in years.
Why they leave
Of those providers planning to leave their current employers, 18% are jumping ship for another agency, and an additional 29% will be continuing their career in another healthcare or public safety role, while 17% are leaving the public safety/healthcare field altogether.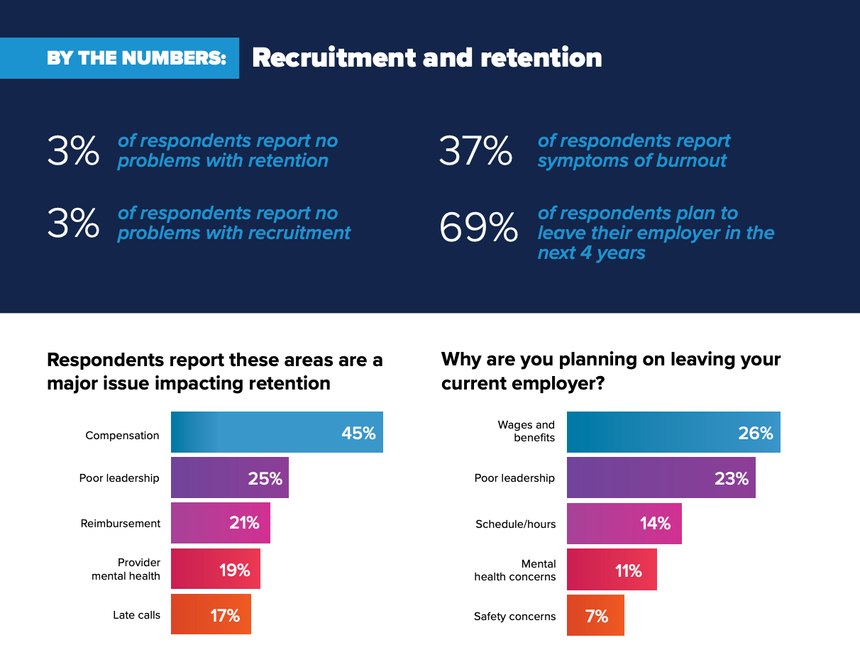 WHAT'S WORKING
Following are a selection of strategies that are making an impact on EMS staffing.
"Having an in-house paramedic program built around our shift schedule and made affordable for our EMT-Bs has helped tremendously with retention over the years and also helps a little with recruitment. For our paramedic program, we offer extremely generous tuition reimbursement for a 2-year post-graduation service agreement and this has helped with retention."
"As a combination department we always required members to be dual certified in both fire and EMS. We have recently removed this requirement and now allow paramedics to work within the fire dept. but not have fire certifications. This has allowed us to begin attracting medics to a faster paced environment with a large call variety. We have also limited overtime requirements for some positions in an effort to provide more downtime."
"An EMS Placement Program: The program is geared towards individuals looking to start a career in EMS (referred to as "cadets"). Cadets may have little to no EMS experience and are provided the training and the opportunity to secure their EMT (Basic) certification at no cost. In turn, cadets are required to make a two-year commitment to remain working at the service."
"There has been a concerted effort to recruit more workers from challenged neighborhoods creating a more diverse and inclusive worker population. As I talk with these individuals, I am impressed with their commitment and desire, their vision of opportunities in EMS and their future plans. Admittedly I was naïve and somewhat biased as to their incentives. I was wrong!"
"This past year, we increased wages for all EMS staff between 10% and 20% depending on years of service, certification etc. We also launched an aggressive education project to help pay for EMTs' books and tuition in paramedic programs and provided existing paramedics the opportunity to take and become certified as Critical Care Paramedics at our expense. We are bringing in other educational opportunities as well. We were able to recruit a talented bunch of new paramedics and have been able to retain many of our existing staff. We are currently one of the only services in our area that is currently fully staffed which is the first time we've been able to say that in years."
"We are a 911 agency that hires medics to be medics. We pay well and offer lots of benefits and opportunities. That makes us more appealing that traditional non-emergency transport agencies. Also, our compensation is comparable to the local fire departments, which lets us attraction people who are aren't interested in firefighting or aren't interested in the physical nature of the work. The biggest thing we offer – and what I think would help with recruiting and retention – is that our employees are considered peers with fire and police employees. EMS is not a stepkid."
"We do a lot with recruitment:
We have a comprehensive communication plan that includes a recruitment section. That includes a very intentional data driven social media plan.
We have a unique EMS schedule that supports work life balance.
We offer opportunities to work that give providers a sense of purpose and lets them practice medicine other than on an ambulance (community paramedicine, special ops, bike team, special events, employee committees).
We hire EMT basics and pay for their entire salary and tuition to paramedic school to build our own pipeline of paramedics who are good hearted people."
"We don't spend our money on recruiting. Instead, we spend our money on retention efforts and maintaining a culture in which our reputation and culture does the recruiting for us by word of mouth. Myself and my leadership staff are an integral part of our crews' daily interactions and we don't hide down a hallway or at a desk. We help drive the culture, we give our staff the tools they need to succeed in the field and be comfortable in their quarters - quality comfortable furniture, entertainment, food - we bought a high quality smoker last year - major game changer for food and keeping the crews fed and happy, the crews gravitate towards certain shifts where they know they'll eat well."
"As part of our outreach, we provide virtual Continuing Education to providers around the world. Subsequently, we have received applications from EMTs and Paramedics across the United States who are interested in our organization because of the great things they saw in our education."
While earn while you learn programs, competitive compensation and the other proven strategies offered here can definitely help you conquer staffing challenges, an organizational culture that supports its membership and offers a path to career longevity is essential to attracting and retaining talent.
Share your proven recruitment and retention strategies with us at editor@ems1.com.