EMT who treated officer shot in Breonna Taylor case on leave for Facebook post
Norton Healthcare EMT Will Smith, who previously worked for Louisville EMS, called Louisville Police Sgt. Jonathan Mattingly a "monster" in the now-deleted post
---
By Laura French
LOUISVILLE, Ky. — A Kentucky EMT who treated one of the police officers involved in the fatal shooting of ER Technician Breonna Taylor has been placed on leave after a Facebook post saying, "I feel like I saved a monster." 
Norton Healthcare EMT Will Smith, who worked for Louisville EMS at the time of the shooting, wrote in the now-deleted post that he was "the first medical hands" on Louisville Police Sgt. Jonathan Mattingly after Mattingly was shot by Taylor's boyfriend Kenneth Walker during a raid of Taylor's apartment, according to WDRB.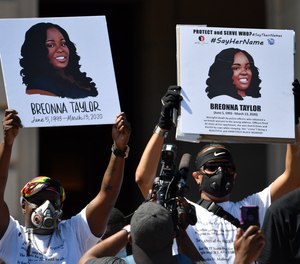 Taylor, an ER technician at Medical Center Jewish East and Norton Healthcare and a former Louisville EMT, was shot six times during the raid conducted by Mattingly, Detective Myles Cosgrove and then-Detective Brett Hankison, according to the Associated Press. One of the shots, fired by Cosgrove, was fatal.
Hankison has since been fired and charged with wanton endangerment for firing his gun into neighboring apartments. The other two officers have not been charged or terminated by the Louisville Metro Police Department. Walker was initially arrested but not prosecuted for shooting Mattingly, as he said he believed the officers to be intruders and was firing a "warning shot." The case has sparked protests across the nation calling for the three officers to be held accountable in Taylor's death. 
Smith's post shared a link to a news article sharing newly-released video footage shortly before Mattingly was placed in an ambulance, according to WDRB. Smith wrote that the two EMS providers seen in the video are him and his partner. He wrote that they received a call about an officer shot but that nothing was mentioned about anyone else needing medical attention. 
"I've been conflicted about sharing this with you all because as I know I was just doing my job, I feel like I saved a monster.. and now they walk free.. I'm pissed.." the post stated, according to a screenshot published by WDRB. 
Norton Healthcare told WDRB, "The views of this individual do not reflect the views of Norton Healthcare. We are aware of the situation, and the employee has been placed on leave per our process."