Justice calls for Ky. EMT fatally shot by police amplified after Floyd death
Massive nationwide protests have brought a greater focus to the death of EMT and ER Technician Breonna Taylor
---
By Laura French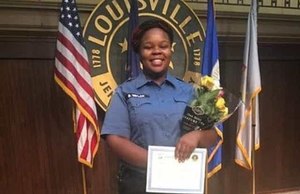 LOUISVILLE, Ky. — Massive nationwide protests sparked by the killing of George Floyd in Minneapolis have amplified calls for justice for Kentucky EMT and ER Technician Breonna Taylor, who was fatally shot by police in her home in March. 
Taylor, 26, an ER technician at Medical Center Jewish East and Norton Healthcare, and a certified EMT who had previously worked in that role for the city of Louisville, was killed when police fired into her home during a drug raid shortly after midnight on March 13, striking her eight times. 
Police said they were returning fire from Taylor's boyfriend, Kenneth Walker, who said he was firing in self-defense, believing there were intruders in the home. The three officers were serving a "no-knock" warrant in the belief that a drug suspect may have received mail or stored drugs or money at Taylor's address. No drugs were found at the residence. 
Walker was initially charged with attempted murder after shooting and injuring an officer, but the charges were dropped last week, with prosecutors saying they needed more evidence, according to WLKY. In 911 audio released by Louisville Mayor Greg Fischer last week, Walker can be heard telling the dispatcher, "I don't know what happened ... somebody kicked in the door and shot my girlfriend."
The case is now under investigation by FBI and Kentucky Attorney General, following requests by Fischer and then-Louisville Metro Police Chief Steve Conrad for federal oversight. Conrad was fired by Fischer earlier this week. 
The officers involved in the shooting were Officers Jon Mattingly, Brett Hankison and Myles Cosgrove, according to a Louisville Metro Police Department report. 
Taylor's family is being represented by civil rights attorney Ben Crump, who is also representing the Floyd family.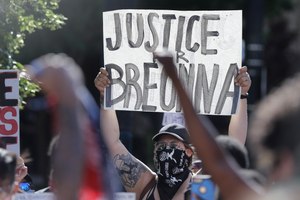 Taylor's case has become the subject of many of the massive protests throughout the nation initially sparked by the death of Floyd in Minneapolis police custody. Taylor's name has been chanted by protesters during marches and displayed on posters at demonstrations, and many are now calling for a permanent end to "no knock" warrants after Louisville suspended them last week, according to the Associated Press. 
Civil unrest and riots have also broken out in Louisville over the past week, during which at least seven people were injured in shootings and one man was shot and killed by police, leading to the firing of Conrad after officers failed to use their body cameras during the incident, according to the Associated Press. 
Taylor's mother, Tamika Palmer, called for both justice and peace in a statement last Friday, the AP reported.
"Please keep saying her name," Palmer said. "Please keep demanding justice and accountability, but let's do it the right way without hurting each other. We can and we will make some real change here. Now is the time. Let's make it happen, but safely."
Palmer also said that her daughter devoted her life to others and that the "last thing she'd want right now is any more violence."