Photo of the Week: Oh baby!
Livonia EMS chief delivers FD colleague's baby
---
Calling all EMS photographers! EMS1 wants to see pictures of you in action. Submit a photo — it could be selected as our Photo of the Week! Be sure to include your name, department information and some background on the photo.
By EMS1 Staff
LIVONIA, N.Y. — Livonia EMS Chief Bryan Allen said he wasn't supposed to be on call on May 31 and had just been talking about the rare occurrence of delivering a baby with his fellow staff.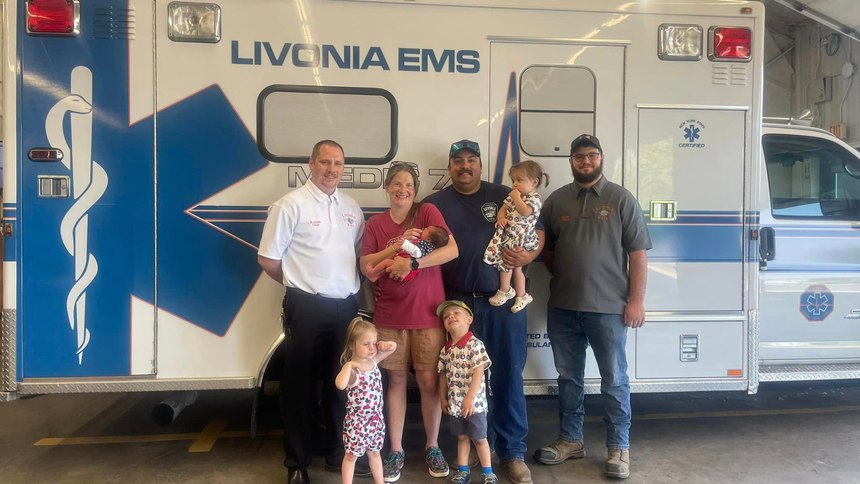 "It can be a very terrifying experience," Chief Allen told WROC, "It's a funny story to tell now, and also just ironic. I was like, 'I actually kind of would like to deliver a baby someday,' and two days later, it happened."
Along with Lieutenant Mark Bartles, he and Allen helped deliver the baby of one of their colleagues.
"The dad is in the fire department with me," Allen said, "So, they kind of called me and said 'Hey, this is sort of happening.' And I was like 'Okay, we'll get the ambulance and we'll come pick her up. I think we made it one intersection from where we picked her up, to where we ended up stopping because it had gotten to that point where we knew we weren't going to make it anymore and delivered the baby right there."
Allen said the experience may be once in a lifetime but was "amazing."