Dead 'baby' found in New York park turns out to be hoax
Medics had declared the infant dead and an active crime scene was established before the hoax was discovered
---
Every few months, it seems that there is some sort of mistaken declaration of death event involving EMS. These cases are always tragic, emotional and sensational. Learn how to avoid a similar incident and the Monday-morning quarterbacking with this analysis by Skip Kirkwood.
Rocco Parascandola and Thomas Tracy
New York Daily News
NEW YORK — A "dead baby" found on a patch of grass near a Queens park Tuesday turned out to be a realistic-looking doll that at first fooled responding medics and cops, officials said.
The doll, clad in a diaper and a T-shirt emblazoned with the words "The Crawling Dead," had been colored blue and purple to make it look as if it was a decomposed corpse, sources said.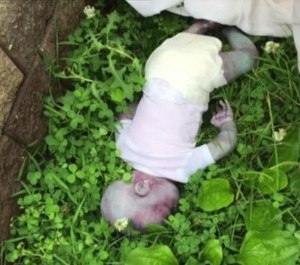 The "baby" was found facedown in the grass next to a brick wall outside a home near 215th St. and 35th Ave. just outside Crocheron Park in Bayside about 7:30 a.m., officials said. One purple arm was tucked under its tiny body.
The 911 caller reported that the baby was deceased and "not breathing," officials said.
Medics had declared the infant dead and an active crime scene was established before the hoax was discovered.
"It appeared to be a baby with discoloration consistent with signs of prolonged death," an FDNY spokesman said. "But, thankfully, it was actually a lifelike prop."
Once the baby's shirt was raised, investigators realized it was a doll, sources said.
"EMS will conduct a medical review of the incident," the spokesman added.
Cops are tracking down the 911 caller to see if they left the doll in the grass, officials said. If that's the case, the caller could be charged with filing a false report.
———
©2019 New York Daily News
Read more
A hands-on patient assessment must be performed to declare a victim dead, even at a potential crime scene. Read more.
McClatchy-Tribune News Service