Ohio county officials see significant decrease in overdose deaths
Clark County Commissioner Melanie Flax Wilt said "a coordination of efforts among many different agencies" has helped decrease the number of fatal overdoses
---
By Lucas Gonzalez
Springfield News-Sun
CLARK COUNTY, Ohio — Clark County saw a significant decrease in drug overdose deaths last year.
Although numbers show that progress has been made, county leaders say there is still work to do.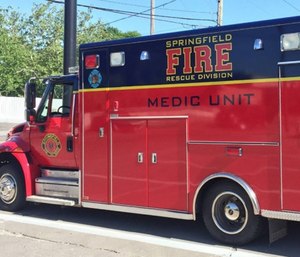 In 2017, deaths resulting from drug overdoses peaked , according to data from the Clark County Combined Health District. The 2018 data has not been finalized, but early numbers show a significant drop in drug overdose deaths.
The county has confirmed 63 deaths for 2018, with a few still under review. There were 106 overdose deaths in 2017.
Melanie Flax Wilt, county commissioner, attributes the decrease in drug overdose deaths to trauma-based counseling and other measures.
"In the last few years what we've seen is a coordination of efforts among many different agencies all trying to get to the root of the substance abuse issues in our community," Wilt said.
Wilt also said that individual cities and townships have undertaken their own measures to deal with the drug epidemic in Clark County.
"The stigma associated with substance abuse has begun to fade, and that is allowing us to get real work done in tackling the problem and developing more effective prevention and treatment programs in our community," she said.
Still a problem
Springfield Mayor Warren Copeland said that the drug epidemic appears to have peaked in 2017, but the problem is still serious.
"We (still) have a portion of our workforce who cannot pass a drug test and cannot get a good job. We have a portion of our workforce who have a hard time making it to work every day," Copeland said.
That has an effect not only on the economy but also on the addicts' families, the mayor said.
"When they and their families have difficulties, we end up having to deal with those difficulties through various government programs and efforts in the community."
On the other hand, Copeland said that trends from last year demonstrate positive changes. He attributes the lower number of drug overdose deaths to several components, including the quality of work from Emergency Medical Services and increased access to drug treatment and drug prevention programs.
"The primary thing is making these programs available and getting people connected to them," Copeland said.
One measure of increasing access to treatment and prevention programs has included directly connecting victims of a drug overdose to treatment programs upon arrival to a hospital.
In the future, Copeland said he would like to strengthen local programs with state support and focus more on treatment instead of punishment.
Springfield Fire Chief Brian Miller said the decrease in drug overdose deaths is a result of several factors, including tighter drug enforcement, education, and rehabilitation.
"It is a measure of collective efforts that have paid dividends," Miller said.
The increased availability of Narcan, a drug which counteracts the effects of opioids, has also played a role.
As people have become more aware of the dangers of opioids, they have begun using Narcan to avoid an overdose or stopped using opioids altogether, according to Miller.
"In some cases, (users) actually switch their drug of preference."
Numbers going down
There were 63 drug overdose deaths in Clark County last year and four more suspected cases are pending. Comparatively, 2017 saw 106 people die from drug overdoses, an average of one every three and a half days.
"The opioid problem is still there, but steps are being made in the right direction to lessen the impact," Wilt said.
The total number of drug overdose investigations from the Clark County Sheriff's Office also went down in 2018. Last year, the sheriff's office encountered 92 overdose cases. In 2017, that number was 205.
The number of emergency encounters at the health district decreased last year as well.
In 2018, emergency encounters averaged 16.2 encounters per week for drug hospitalizations, compared to an average of 27 encounters per week in 2017.
A new problem emerging
Opiates were the most commonly-found substance in toxicology screenings in 2017, according to data from the health district. Although the data does not specify which substances accounted for drug overdose deaths, leaders say that one particular drug appears to be on the rise - methamphetamine.
Clark Clark County Health Commissioner Charles Patterson also said that the trend is moving away from opioids and more toward other drugs.
"The general feeling is that it is moving somewhat away from fentanyl and heroin, and moving toward methamphetamine," Patterson said. "You never know what you are getting (with opioids), so people are moving away from that."
Whereas opioids accounted for most drug overdose deaths in previous years, 2018 saw an increase in overdoses resulting from methamphetamine, according to Patterson.
"I think it is attributed to education that is going on in the community and the knowledge that people now have that opioids are very, very dangerous and could kill you," Patterson said.
"Meth will kill you just as surely as the opioids. It just takes longer to do it."
Other drug overdose deaths from 2018 involved prescription drugs laced with fentanyl, Patterson said.
"(Users) think they are taking another 'safer' drug that has in fact been manufactured by the drug cartels with fentanyl in it. These people are not known opioid users, and they are dying from opioids," he said.
So far in 2019, there have been a total of 17 drug-related emergency department encounters, according to information from the health district.
Patterson said that the numbers illustrate positive change, but more can be done in the future.
"Everybody needs to continue to up their game to make a difference," Patterson said. "There is still a lot more work to do to get this under control for our community."
Copyright 2019 Springfield News-Sun
McClatchy-Tribune News Service