Rapid Response: EMS needs to support non-prescription naloxone
CVS to sell naloxone without a prescription in 14 states, making the drug as easy to obtain as a tourniquet or fire extinguisher
---
What happened: CVS, the national pharmacy chain store, announced it will start selling naloxone (Narcan) rescue kits without a prescription in 12 more states. In addition to Rhode Island and Massachusetts, the kits will be available for purchase in Arkansas, California, Minnesota, Mississippi, Montana, New Jersey, North Dakota, Pennsylvania, South Carolina, Tennessee, Utah and Wisconsin.
Why it's significant: We are in the midst of an opioid overdose epidemic in the U.S. that has become a leading cause of death, regardless of socioeconomic status, age or geography.
Pathways to an opioid overdose include accidental overdose of a prescribed narcotic by the person for whom it was prescribed, accidental overdose of prescribed narcotic medications belonging to someone else, and accidental or intentional overdose of an illegal narcotic, specifically heroin. Regardless of the pathway to overdose there is growing evidence that laypeople, cops, and medical first responders are able to recognize a narcotics overdose and capably reverse it by administering intranasal naloxone.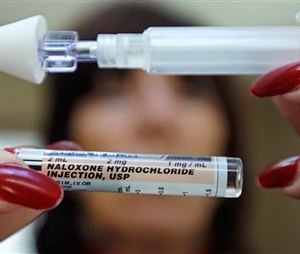 Top takeaways: Naloxone, which was once only administered by paramedics, became widely available to anyone and everyone in 2014. Legislative approvals and administrative code changes have authorized all types of first responders and bystanders to administer naloxone for patients with known or suspected opioid overdose.
These are my top takeaways from the CVS announcement and continuing push to make naloxone ubiquitous:
1. Naloxone rescue kit goes next to the fire extinguisher or AED
Anywhere there are narcotics there should be a naloxone rescue kit. Look for other major pharmacy retailers, like WalMart, to make naloxone available without a prescription. When a lifesaving device is easy to purchase, use and store, it should be just as ubiquitous as a fire extinguisher in a home or an AED in a school or airplane.
2. Regular people overdose on narcotics
Too many EMS providers are dismissive of people that overdose on narcotics. There might be few people that end a lifetime of bad choices, sociopathic behavior and refusals of treatment with a dose of heroin, but driving the push for widely available naloxone are the numerous tragic stories of regular people that either accidentally overdosed on a prescribed narcotic or became addicted after being prescribed narcotics. We cannot dismiss the needs of the many because of our bad experiences with a few people who could never get clean. Our neighbors, friends, coworkers and loved ones are overdosing on opioids. Anyone who overdoses should have easy access to naloxone.
3. EMS supports lifesaving care successes
Regardless of the illness, treatment or caregiver, EMS needs to support lifesaving care. Naloxone rescue kits are just the latest in a series of treatments that have transitioned from the hands of highly trained and select group to the hands of laypeople. EMS has supported and led community education efforts on the Heimlich maneuver, CPR and AED use. EMS agencies are widely advocating for public access to hemorrhage control. We need to champion narcotics overdose rescue with the same vigor we have applied to those treatments and the current EMS promotion for tourniquets in schools, cars, homes and businesses. 
What's next: Every well-prepared citizen needs a fire extinguisher, tourniquet and naloxone rescue kit in their home along with simultaneous education on fire prevention, bleeding control and narcotics overdose recognition.
Finally, when a 50-year-old is applauded and photographed with his family that started CPR and the medics that shocked him at a cardiac arrest survival ceremony he is not scolded for being overweight or his genetic predisposition to heart disease. EMS agencies need to celebrate narcotics overdose survivors and rescuers with the same vigor and steps we use for cardiac arrest survival.
Further reading:
Why intranasal naloxone is a safe antidote for anyone to administer
Is police use of naloxone really saving lives?
How a Mass. police dept. is winning the opiate overdose battle